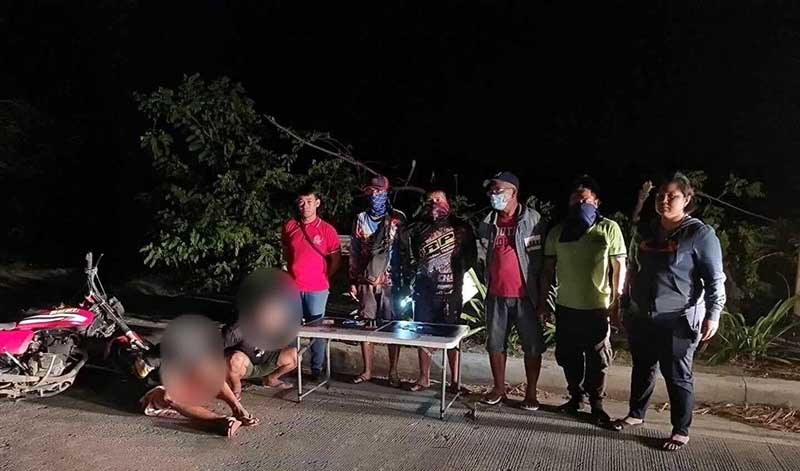 By Glazyl Y. Masculino
BACOLOD City – Three persons, including a teenager, were arrested in hot pursuit operations in the cities of Talisay and Silay in Negros Occidental after they allegedly robbed a gasoline station in Barangay Guinhalaran, Silay City past midnight yesterday.
Police identified the suspects as Joseph Garrucho, 24, of Barangay 4, and Christian Balili, 18, of Barangay 2, both in Silay City.
Police Major Rhea Sarah Villanueva, officer-in-charge of Silay City Police Station, said they conducted a dragnet operation after receiving a report that three persons allegedly threatened a pump boy at gunpoint and carted away P1,300 sales collection from a gasoline station.
Garrucho and Balili, who were riding a motorcycle, were intercepted along the Circumferential Road in Barangay Bagtic, Silay City.
Villanueva said that a .38 caliber revolver loaded with two live ammunition was recovered from Garrucho while three sachets of suspected shabu weighing 12 grams worth P81,600 were recovered from both of them.
Villanueva said the gasoline station is open 24/7, but it has no security guard. Fortunately, the gasoline station owner was able to collect their sales early that day, she added.
Aside from the two suspects, Villanueva said that their 23-year-old companion was also arrested in Talisay City a few minutes later after he was sighted walking near a bridge. Villanueva said that Garrucho and Balili told their companion to escape on foot.
Villanueva said that a firearm and illegal drugs were also recovered from the 23-year-old suspect.
She said that Garrucho is a street level individual, and a listed drug personality in Silay, while Balili is an alleged noted thief in Silay City, but no cases were filed against him previously because he was a minor.
Meanwhile, Villanueva said the Talisay City Police Station is probing if the robbery incident that killed a man and injured his wife in a public market in Barangay Concepcion early this week could be linked to the arrested suspects in Silay City.
Villanueva said that the three suspects will be charged with robbery and illegal possession of dangerous drugs, while Garrucho and the arrested suspect in Talisay will face additional charges for illegal possession of firearms in relation to the Commission on Elections (Comelec) gun ban.