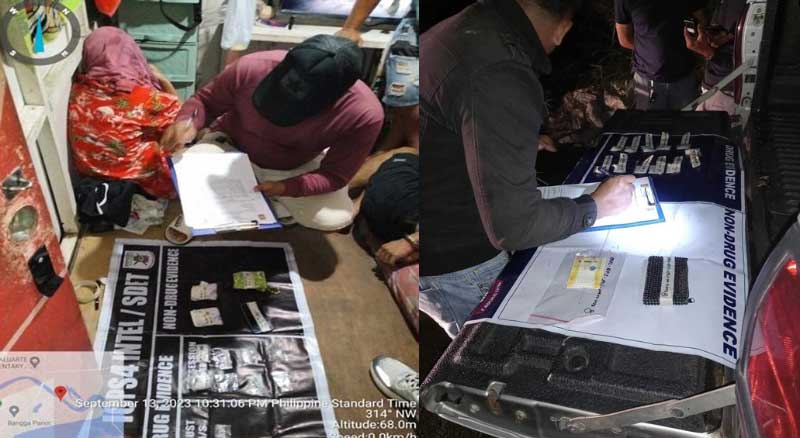 By Jennifer P. Rendon and Glazyl Y. Masculino
Three youngsters were arrested in several anti-illegal drug operations in Iloilo and Negros Occidental on Wednesday.
In Molo, Iloilo City, a 26-year-old suspected drug pusher and his young cohort were apprehended Wednesday evening.
Genesis Selorio and alias Tian-Tian, 16, were nabbed at the former's house in Zone 6, Barangay Boulevard, Molo.
The two allegedly connived in selling a sachet of suspected shabu for P14,000.
Members of the Iloilo City Police Station 4 later recovered eight more sachets of suspected shabu and several non-drug items.
Major Marlyn Roquero, ICPS4 chief, said the seized drugs weighed around 49 grams and had a standard drug price value of P333,200.
Roquero said Selorio is an ambulant vendor of cutting discs. He allegedly used Tian-Tian as his runner.
Selorio was placed under monitoring for three weeks before he was arrested.
The suspect's alleged illegal drug dealings took place at his own house.
At times, he asked Tian-Tian to deliver the items to his customers.
While he admitted to being into illegal drug use and trade, he claimed that the items seized in their possession were not his.
Instead, he claimed that it belonged to his teenage companion.
Selorio is now detained while Tian-Tian was turned over to the custody of the City Social Welfare and Development Office.
Meanwhile, three persons, including two high school students were arrested in separate buy-bust operations in Bacolod City and Negros Occidental Wednesday.
A tricycle driver, who was released from jail last year for a drug offense, is back behind bars after he was busted with 60 grams of suspected shabu worth P408,000 at Purok Lampirong, Barangay 2 here.
Police identified the suspect as John Paul Jovero, 37, of Barangay 26 here.
Captain Glenn Montaño, head of Police Station 2, said Jovero was jailed in September 2020 and was released two years later through plea bargaining.
Montaño said they subjected the suspect to surveillance for three weeks after they received information that he allegedly continued engaging in the illegal drug trade.
Montaño said they are probing the source of the illegal drugs, adding that according to the suspect, someone allegedly delivers the contraband to him.
Police also recovered from him the P10,000 boodle money, including the marked money.
He said that the suspect's wife was also arrested for the same offense here two months ago.
Meanwhile, two senior high school students aged 19 were also arrested at Purok Esmeralda, Barangay Poblacion, Bago City.
Confiscated from them were 15 grams of suspected marijuana worth P7,500, an improvised wooden pipe, P555, and the P300 marked money.
Police Lieutenant Colonel Jay Malong, city police chief, said the two students were subjected to the operation after they received information about their alleged engagement in illegal drugs.
"We are very serious in our war against illegal drugs so tanan gina monitor. We're very thankful to the community for giving us information, regardless kung students sila," Malong said.
Malong said they are probing the link between the two students to determine their source and other customers.
He said that it took them a few weeks to monitor them before launching the operation.
Charges for the sale and illegal possession of dangerous drugs will be filed against them, according to Malong.