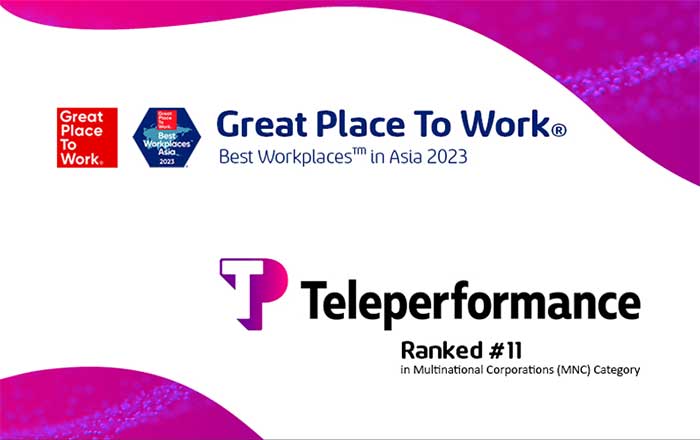 Teleperformance (TP), a multi-awarded and leading digital business services company, has been named as one of the Best Workplaces in Asia™ in 2023 by the Great Place to Work®(GPTW) institute.
The company ranked 11th among 30 multinational enterprises spanning various industries. Teleperformance also stood as the second-best performer in the professional services category and earned a place among the "elite group of progressive employers in Asia" in the GPTW®-curated list.
The GPTW® researchers assessed Teleperformance by surveying over 90,000 employees across Asia. These employees were asked to evaluate key factors that make a company a great workplace for all, including workplace safety, gender fairness, diversity, and inclusivity.
The results showed that 91% of employees believe Teleperformance is a physically safe place to work. In addition, 87% of employees agreed that Teleperformance fosters a gender-fair environment, while 86% recognized the organization's efforts to ensure inclusivity within the workplace.
Furthermore, Teleperformance in the Philippines has played a significant role in its inclusion in the Best Workplaces in Asia List. Last August, the organization earned the distinction of being recognized as a Great Place to Work® for the sixth consecutive year. In 2018, Teleperformance became the first company and member of the IT-BPM sector in the Philippines to be certified Great Place to Work®. The award-giving body revealed that TP has gained above-minimum scores from different gender and identity groups across its departments.
"Receiving recognition as one of Asia's Best Workplaces in 2023 underscores our commitment to establishing an exceptional workplace. In every TP site across the globe, our teammates are diligently working to ensure that every Teleperformance employee has the opportunity to thrive and make meaningful contributions within a safe and inclusive environment," shared Jeffrey Johnson, Chief People Officer and Chief of Staff at Teleperformance in the Philippines.
Teleperformance has remained steadfast in upholding its values through initiatives, such as, but not limited to, partnerships with the Department of Health (DOH) and Department of Labor and Employment (DOLE).
These collaborations have facilitated projects focused on HIV awareness, vaccinations, and the distribution of wellness kits to employees. By consistently upholding integrity in the workplace, Teleperformance has also retained its position among Cebu's top 10 IT-BPM employers and has been recognized in the inaugural IT-BPM list of the Philippines' Best Workplaces for 2023.
To learn more about Teleperformance Philippines, visit their website at www.teleperformance.com.