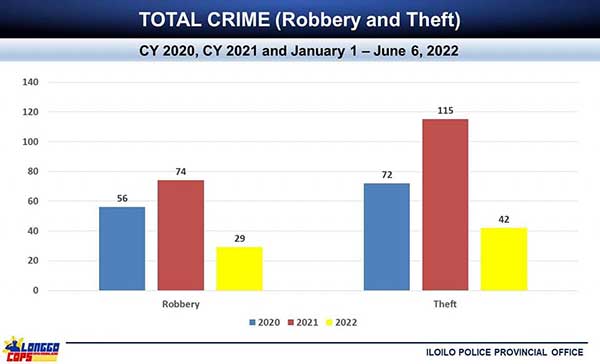 By Jennifer P. Rendon 
Crimes against property in Iloilo province declined in the first five months of the year.
From January to June 6, the Iloilo Police Provincial Office noted fewer theft and robbery incidents.
Reports from the Provincial Investigation and Detective Management Unit indicated that only 42 theft incidents were reported for the period, 64 percent lower compared to 115 cases last year.
In 2020, the IPPO recorded 72 incidents for the same period.
The PIDMU also recorded 29 robbery incidents, or almost 61 percent lower compared to 79 cases last year.
Colonel Adrian Acollador, Iloilo police director, attributed the sudden decline in theft and robbery incidents to the conduct of regular patrol activities in the crime-prone areas based on crime clock and crime map.
"Our police stations are plotting the previous incidents based on the location and time of occurrence, and police presence is intensified in said areas," Acollador said.
He also cited the support of barangay tanods (village watchmen) and other support groups who do foot patrol in their respective areas, especially in the wee hours of the night.
Most robbery incidents happened in business establishments with 12 cases; residential buildings with nine (9) cases; open space (streets) with 4; government buildings with 3; and construction sites have recorded a lone case.
Just like robbery, theft incidents are also prevalent in commercial establishments with 25 incidents.
Theft incidents in residential building have seven cases; farm/ricefield and government establishments with two cases; and open space with one incident.
Oton Municipal Police Station recorded the most number of theft incidents with five while Barotac Nuevo and Barotac Viejo have four cases each.
Acollador instructed station chiefs to sustain the police presence through mobile and foot patrol in crime prone areas and to revitalize the Barangay Peacekeeping Action Teams (BPATs), tanods, support groups and other force multipliers to keep the positive momentum in the campaign against robbery and theft.
He also urged business owners to install close circuit television cameras (CCTV) to deter robbers and thieves, and to aid the investigation.
Further, the Iloilo top cop also enjoined the public to be cautious about their security and safety, and that of their valuables preventing an opportunity for the criminals to accomplish their motives to take advantage of any situation.