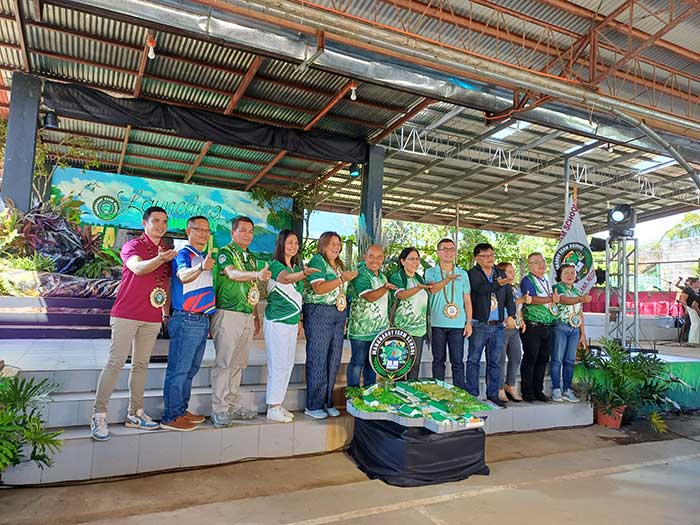 By Dolly Yasa
BACOLOD City – It is a misconception that if you are a farmer, you are poor.
Thus said Department of Education (DepEd) Regional Director Ramir B. Uytico, who led the launching Friday of the Manghanoy Farm School together with La Castellana, Negros Occidental Mayor Rhummyla Nicor-Mangilimutan, Henry G. Tabiolo, OIC Principal, Leo Magahum Talaban, Municipal PTA Federated president of La Castellana and other local DepEd officials.
"May kuarta sa uma," Uytico pointed out.
Uytico also shared that in other countries, "if you are a farmer, you are rich."
He also said that "we don't need to have another pandemic to realize the value of food."
Uytico recalled an instance during the height of the pandemic when markets were closed and there was nowhere to buy food.
"Ang ginhimo namun, nanguha sang ugbos nga dahon sang kapayas kag butangan itlog, it saved us one meal," he said.
So it really helps if we have farm plants in our surroundings, Uytico added.
He said this is now the challenge for the farm schools to address the need for farm products for every household in their area.
Uytico also said he was impressed by what he has seen at the Manghanoy Farm School located in Barangay Manghanoy, La Castellana town.
"It is the best I have seen so far in the region," he said.
Uytico said he saw sacks with soil planted with vegetables at the Manghanoy Farm School.
It shows you are very creative and resourceful, you create spaces where you can plant, he pointed out.
He also commended Mayor Mangilimutan for her commitment and support for the project.
"This will be the pride not only of Manghanoy of La Castellana but also of the province of Negros Occidental," Uytico said.
He also announced that the said farm school will get a P2.7-million assistance from DepEd.
Farm schools were established in the region as part of the provisions of Republic Act 10618 or the Rural Farm Schools Act, which mandates the DepEd to encourage the establishment of at least one public rural farm school in every province of the country.
"So the challenge is how you will utilize this fund to enhance what you already have," Uytico added.
He also reiterated that the project was a call of time, citing their regional mantra that "every child is a champion," they also need to provide food for both teachers and students to reach their full potential.
"With response to a sustainable development goal, which is the eradication of poverty, we need to provide opportunities to our men and women so that all of them would be active partakers," Uytico further said.