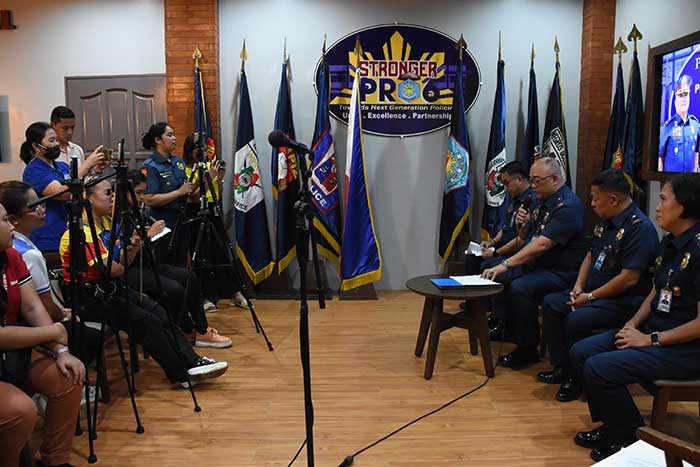 By Jennifer P. Rendon
Only three policemen of the more than 13,000 organic members of the Police Regional Office (PRO) 6 tested positive for illegal drug use.
Brigadier General Sidney Villaflor, Western Visayas police chief, said the number constitutes .000226 percent of the total PRO-6 organic force.
"Kung titingnan po natin, hindi naman po negligible, pero napakaliit po na nagpositibo sa paggamit ng illegal na droga," he said.
These policemen are members of the Negros Occidental Police Provincial Office (NOCPPO), Capiz PPO, and Antique PPO.
"They will face appropriate charges and possible dismissal from the service," Villaflor said.
As of Sept. 24, 2023, PRO-6 recorded that 99.56 percent of its total organic personnel already underwent drug tests.
The remaining 0.44 percent are those personnel with medical conditions and/or under peculiar circumstances such as "on leave abroad, had applied for early retirement, and suffering from extreme medical comorbidity, among others.
When Villaflor assumed post as PRO-6 chief in May 2023, he endeavored to have all PRO-6 personnel undergo drug tests.
He moved for the procurement of 15,000 drug test kits through the Philippine Anti-Drug Strategy (PADS) Fund in a bid to achieve 100% drug-tested organic personnel and have a drug-free workplace.
"This initiative is part of our Internal Cleansing Program. This is a tangible way of checking the personnel's integrity and commitment to duty.  We now have records, results, and actions to be undertaken for those whose results turned out positive. We will implement the highest penalties to those who will fall short of the expectation of the PNP and the people of Western Visayas," he said.
The region's top cop also asked for help from the community in helping the hierarchy cleanse its ranks by reporting policemen who are engaged in illegal drugs through its hotline or the nearest police stations.
He assured that every piece of information would be given the utmost confidentiality.