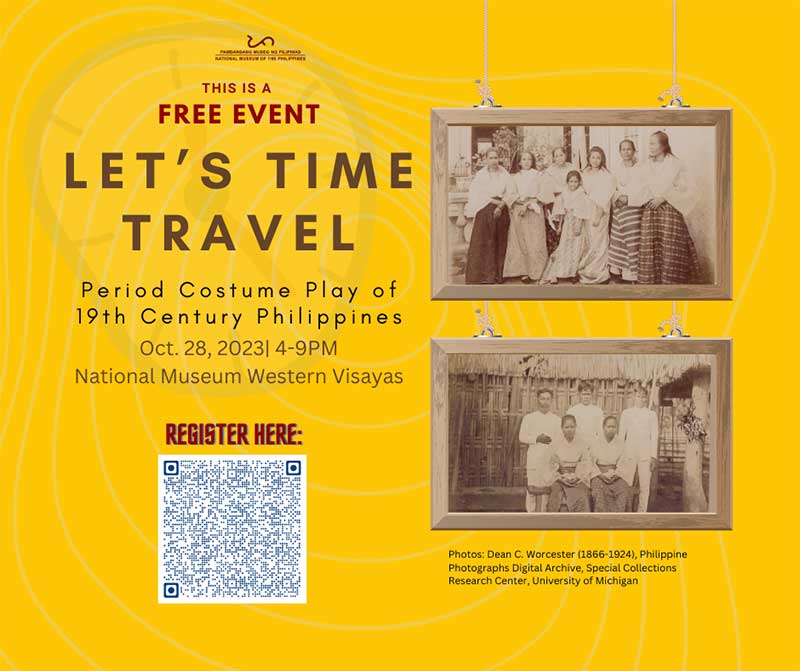 Let us time travel to 19th century Philippines through a period costume play at National Museum Western Visayas in Iloilo City, on October 28, 5PM to 9PM. This activity will culminate the Museums and Galleries Month celebration of National Museum of the Philippines in the region.
To be held in partnership with NMP GAD Focal Point System, this public program reverberates another equally important role of museums in a community – a space that promotes well-being and mental health through cultural engagement; enables inclusive, quality education fostering sustainable lifestyles, gender equality, and cultural diversity; and safeguards cultural heritage, promoting inclusivity, and democratizing heritage preservation efforts.
Inspired by the popular Japanese cosplay, this period costume play will gather individuals donning period costumes inspired by historical clothing of 19th century Philippines, exhibits like Habol Panay, characters from Dr. Jose Rizal's novels, historical figures, among others.
The museum's ambience will transport the participants to the Spanish period streets of Iloilo. Engaging experiences including games, quizzes. The cosplayers' parade will be the highlight of the night, with the participants acting out the characters they are portraying.
This activity is corollary to the Haból Panay textile gallery, highlighting the socio-economic significance of textiles, the craftsmanship of weavers, and the role of women in the guardianship of this intangible cultural heritage.
The period costume play is also another approach to address gender-related topics related to the weaving traditions of the region, as well as nurture heritage appreciation among the youth by encouraging to be creative in designing their costumes.
Attendees will receive a commemorative kit containing locally handcrafted items. Prizes will be awarded to the winners of best cosplayer, best in costume, best in character interpretation, and best group cosplayers. Follow our FB page for updates and contest mechanics.