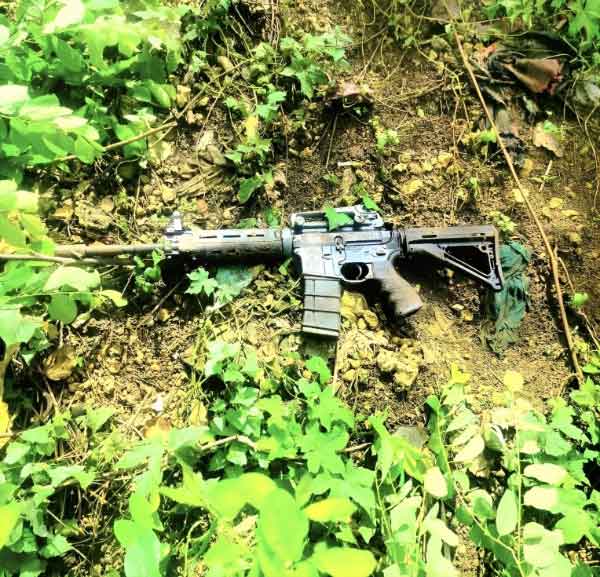 By Glazyl Y. Masculino
BACOLOD City – The Army's 303rd Infantry Brigade (IBde) has yet to identify a man believed to be a member of the New People's Army (NPA) who was killed in a series of clashes with government forces in Barangay Carabalan, Himamaylan City, Negros Occidental on Friday, July 7.
The first encounter occurred while the 94th Infantry Battalion (IB) was conducting a security patrol in response to information from a former NPA rebel about his comrades who were allegedly extorting food from the villagers in the barangay.
Two backpacks, purported extortion letters, and personal belongings were recovered after the first clash, according to the Army.
It was followed by two more encounters as government troopers were pursuing unidentified armed persons. Also recovered was an M4A1 rifle loaded with magazines and ammunition.
Captain Mervin Rosal, civil military operations officer of 303rd IBde, said the clashes displaced 167 families, or 765 individuals, who were temporarily sheltered at the barangay's covered court.
But the evacuees were allowed to return to their homes the following day, he added.
Lieutenant Colonel Van Donald Almonte, 94th IB commander, said the information provided by the informant greatly contributed to the success of the unit's operations against insurgency.
The recent encounters serve as a clear message that our forces are determined and prepared to defend the safety and well-being of the people, Almonte said.
Major General Marion Sison, commander of 3rd Infantry Division (ID), said in a statement that the NPAs in Negros are on the run.
"They can no longer hide, for Negros is no longer a haven for them," he added.
Meanwhile, the 79th IB and some policemen discovered a cache of firearms and ammunition hidden by suspected NPA rebels at Sitio Bandol, Barangay Maaslob, Calatrava town last Saturday.
Recovered were an M14 rifle with magazine and live ammunition, M16 magazines, clips for Garand rifle, commercial radios, and subversive documents that were reportedly buried on the ground by remnants of the defunct Northern Negros Front (NNF), according to the 79th IB.
The Army said that the discovery stemmed from the information they received from some residents that support the government's anti-insurgency campaign.
Lt. Col. Arnel Calaoagan, 79th IB commander, said the 79th IB will sustain its gains and be relentless in pursuing its commitment to ensuring the safety and security of the Negrenses.