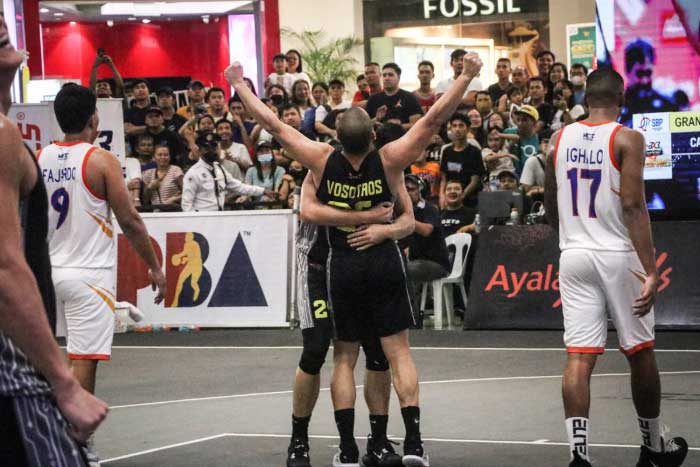 By Leobert Julian A. de la Peña
The TNT Tropang Giga are once again kings of the PBA 3×3 scene after outdueling team Cavitex, 18-14, during the grand finals of the Season 3 First Conference last August 13, 2023, held at the Ayala Malls Market! Market!
After four consecutive leg titles in the conference, the prestigious Tropang Giga squad saved their best for last to clinch their fifth and continue its winning streak in the PBA 3×3 stage.
Almond Vosotros stepped up in the clutch after draining the game-winning shot with only 44 seconds left in the game.
It was one of the toughest championship games for the Tropang Giga after trailing 12-7 when Cavitex had a waxing hot start.
Despite the tight defensive pressure TNT gave, the aspiring Cavitex team was still able to control the tempo of the first half and pounded their way inside the shaded lane to pile up their deuces.
Just when Cavitex thought they could take down the 3×3 kings just like that, TNT's Gryann Mendoza answered the call and spearheaded their comeback attempt.
Mendoza regained his offensive rhythm after missing his first several shot attempts and led Tropang Giga's scoring assault.
After Mendoza's eruption, it was Vosotros who took over in the final three minutes of the intense grand finals thriller.
Vosotros finished the game with an all-around effort of seven points, six assists, and five rebounds while Mendoza chipped in 10 huge markers.
Meanwhile, mainstay high-leaping center Lervin Flores contributed three points and seven rebounds while stabilizer small forward Samboy de Leon scored a point.
"Until the promised reward is given to us. Until the promise has been fulfilled, we won't stop winning," said TNT head coach Mau Belen after the win.