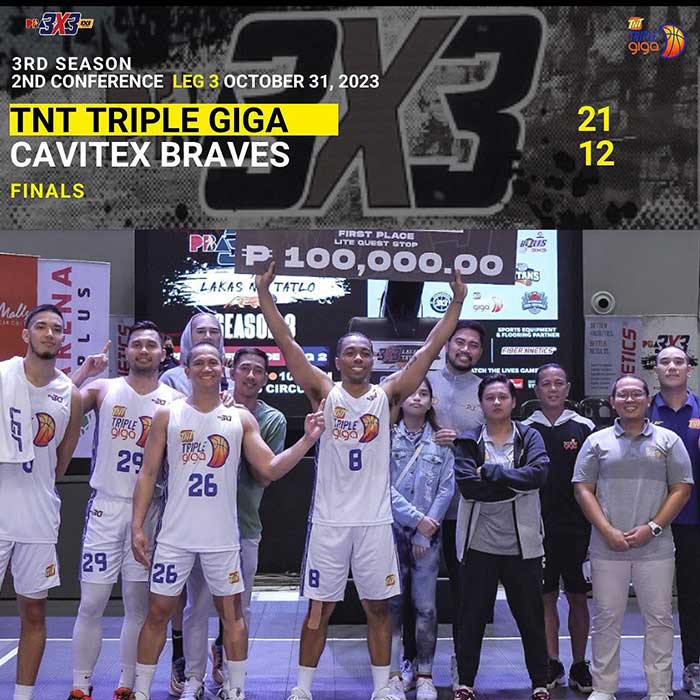 By Leobert Julian A. de la Peña
The TNT Tropang Giga showed why they are the current best squad in the PBA 3×3 scene after clinching another leg title last October 31, 2023, held at the Ayala Malls Fairview Terraces.
TNT was in the driver's seat from the get-go and pummeled Cavitex during the grand finals, 21-12, to earn a third straight leg championship in the second conference.
The Mau Belen-led team was flawless in the final game of the leg and was hitting from all cylinders the whole game.
TNT main gunner Almond Vostros erupted in the most perfect time and dropped 12 big points to fend off the tough challenge from Cavitex.
It was Vostros who set the tone for the Tropang Giga after hitting a couple of early threes while getting the switch matchups that he liked.
TNT then banked on Vosotros' found mismatches and let him operate up to the mid-game that swelled their lead to double digits.
Chester Saldua then joined the TNT barrage and scored back-to-back layups followed by a big three from Ping Exciminiano for the icing on the cake.
Saldua backstopped Vosotros with four points while Exciminiano and Gryann Mendoza joined hands to produce five markers.
With another leg championship title, the Tropang Giga took home another 100,000 pesos and capped off their run with an undefeated record.
During the battle for third, the Meralco Bolts outdueled the Pioneer Elastoseal, 21-16, and took home the 30,000 pesos prize money.