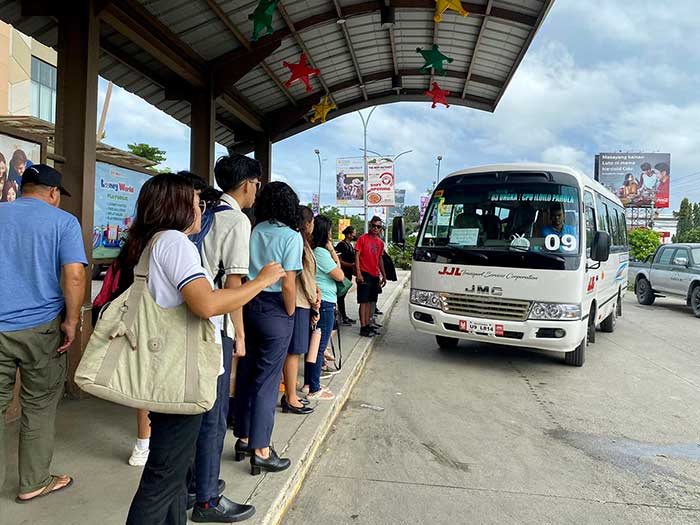 By Rjay Zuriaga Castor
There will be no more transport strikes this week in Iloilo following the pronouncement of the progressive groups that the first day of its strike on Monday was 'successful.'
Warren Gangoso, president of the No to PUV Phase-out Coalition-Panay, claimed that the first day of the transport strike was 'successful,' citing that the number of jeepney drivers and operators who participated this time is much larger compared to the strike they mounted earlier in July.
"Mas baskog gid ni and tam-an gid kagamay ang jeep halin sang aga and naga-amat-amat dula ang mga jeep… Mga 80 percent gid ang nagdulog sa both consolidated and unconsolidated. Sa unconsolidated ta, 100 percent gid mga around 300 or 400 PUJs," Gangoso told Daily Guardian.
Gangoso noted that the strike was felt in three terminals: Mohon, Tagbak, and Ungka.
Aside from the successful transport strike, Elmer Forro of the Kilusang Mayo Uno said that the permit they processed for their strike centers is only valid for Monday. The strike centers were stationed in Tagbak Terminal, Ungka Terminal, University of the Philippines-Visayas, and in front of the Iloilo Provincial Capitol."
Meanwhile, the Land Transportation Franchising and Regulatory Board-Western Visayas (LTFRB-6) said the long queue of passengers observed in major terminals in Iloilo City is just a normal scenario on Mondays and not a direct impact of the transport strike of traditional jeepneys in the city.
LTFRB-6 Transport Development Officer II Joshua Gaquit noted that there are sufficient public utility jeepneys (PUJs) in operation on Monday.
"Ang mga pasahero natun, kay Lunes ini, indi natun malikawan nga may ara nga magwaiting pero sige-sige ang pag-abot sang atun mga PUJs," said Gaquit in an interview with RMN-Iloilo.
He emphasized that since modernized and consolidated traditional PUJs have normally operated, the effect of the first day of the transport strike is "minimal."
"Damo man sang atun nga mga PUJs ang nagbiyahe and minimal siya ang epekto sang ila transport strike," he said.
Meanwhile, the Public Safety and Transportation Management Office (PSTMO) reported a "light traffic" status at major terminals and thoroughfares in the city.
"No affected route and passengers," said Jeck Conclu, PSTMO head.
The Iloilo City Police Office (ICPO) said that the transport strike in the city was "generally peaceful" as there were no reports of any untoward incidents coming from its different police stations.
"ICPO monitored several pockets of mass assembly of striking PISTON members in some parts of Iloilo City this morning; these did not have any adverse effect on the movement of public utility vehicles and conveyance of commuters," said ICPO spokesperson Police Major Shella Mae A. Sangrines.
To assist passengers, the provincial government deployed dump trucks and other available vehicles to three transport terminals: Mohon, Jibao-an, and Ungka.
Meanwhile, the city government provided free rides, deploying two vans each in the plazas of Arevalo, Jaro, and Mandurriao, along with two city government buses stationed at Tagbak Terminal in the Jaro district.