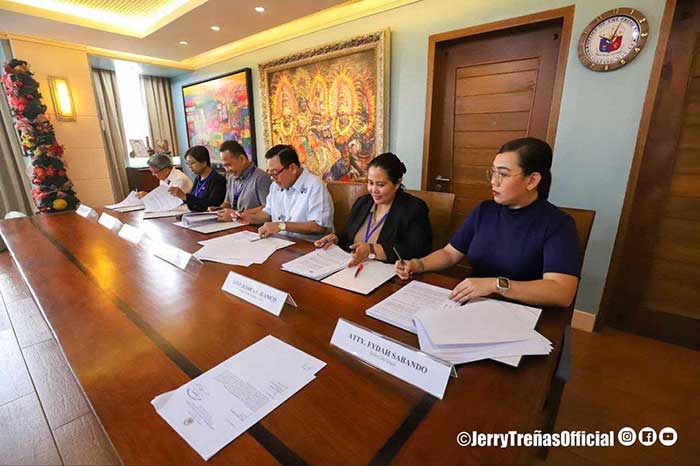 By Rjay Zuriaga Castor
The modernization of Iloilo City's livestock industry is now in full swing after the city government signed a loan agreement with the Development Bank of the Philippines (DBP) to fund the construction and development of a triple 'AAA' slaughterhouse.
"Ang kinanglan ta is really for triple AAA na kay ti bal-an niyo ga-improve ang syudad, naganami ang aton sitwasyon," Iloilo City Mayor Jerry P. Treñas said during the signing of the loan deal on Monday.
An AAA classification for a slaughterhouse means that the meat it produces is safe enough to be shipped abroad.
The loan agreement with the DBP amounts to P180 million and is payable in 15 years, inclusive of a three-year grace period on the principal.
The city mayor recognized that the city government cannot solely finance the upgrade of the current slaughterhouse, citing a state-of-the-art $12-million slaughterhouse that he visited in South Korea.
He shared that the slaughterhouse is fully automated with robots that process the entire carcasses.
"Ultimately siguro we'll lead to that pero in the meantime amo ni anay ang aton nga pa-obra para safe gid ang tanan sa mga baboy kag baka nga ginakaon nila," he said.
Instead of renovating or reconstructing the existing slaughterhouse in Barangay Tacas, Jaro district, a new Triple 'AAA' slaughterhouse building will be constructed adjacent to it.
"Bag-o gid ni ya nga building kay ang desisyon sang aton nga team, better nga bag-o nga building sang sa gub-on ta kag i-reconstruct. This is a new building, new equipment para nga mas manami," he said.
While the city government has not set a specific start date for the construction, they hope to commence the project as soon as possible.
Treñas believes that the construction of the new slaughterhouse will pave the way for the modernization of the livestock industry in Iloilo City.
This will, in turn, offer a sustainable source of livelihood, income, and ensure the availability of affordable, safe, and export-quality meat.
The new slaughterhouse is expected to have a target capacity to accommodate over 1,000 livestock heads, though initially, the city government aimed for at least 500 to 600 pigs.
Personnel and butchers of the slaughterhouse will also undergo training with the National Meat Inspection Service (NMIS), which is a regulatory agency of the Department of Agriculture responsible for evaluating and classifying all meat establishments following an accreditation system.
The slaughterhouse in Jaro, which was constructed in 2008, failed to receive any rating or classification— A, AA, or AAA —from the NMIS.
The Local Economic Enterprise Office of Iloilo City, which oversees the operation of the city slaughterhouse, reported that it has collected a record-high income of P2.3 million from the slaughterhouse as of October this year.