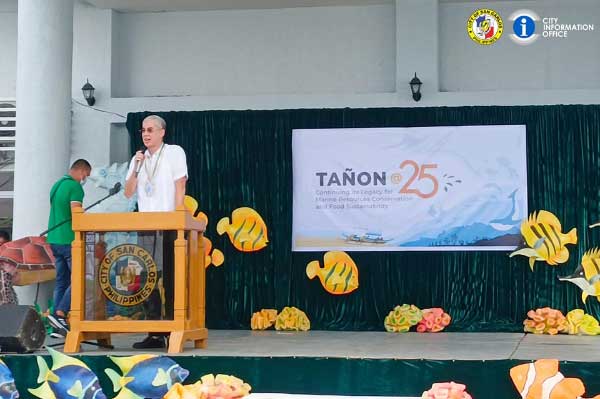 By Easter Anne Doza
BACOLOD City – Spanning across three provinces and two regions, the Tañon Strait Protected Seascape (TSPS) has remained protected since it was declared such for the past 25 years.
Presidential Proclamation No. 1234 declared TSPS, situated within the provinces of Cebu, Negros Occidental and Negros Oriental, as a protected area beginning May 27, 1998.
The local government of San Carlos hosted the silver anniversary celebration of TSPS with a dance contest, Binibining TSPS 2023, IEC Campaign Video Presentation (Tiktok), spoken poetry and amazing race challenge, among other activities.
San Carlos City mayor Renato Gustilo told guests and participants that the local government of San Carlos City is willing to lend the city's speedboat during monitoring of the protected areas and
revealed that the Department of the Environment and Natural Resources (DENR) will purchase two speedboats for conservation-related activities.
Meanwhile, Negros Occidental Gov. Eugenio Jose V. Lacson and Negros Occidental First District Rep. Gerardo Valmayor Jr, reminded the TSPS stakeholders to continue striving for a stronger partnership, engage with the local community, and promote sustainable tourism practices that could benefit both the environment and the people who rely on it.
Negros Occidental Provincial Environment and Natural Resources Officer Engr. Joan Nathaniel Gerangaya said they aim to increase the protection and conservation of the protected area because it is one of the major sources of food, especially those living near the coastline.
More than 300 individuals from the different LGUs covered by the TSPS including mayor Raffy Andaya and vice mayor Jeremiah Andaya of the Municipality of Ayungon, mayor Marianne Gustilo of the municipality of Vallehermoso- all of Negros Oriental; environment officials and advocates including representatives from OCEANA and Pilipinas Eco-Friendly Mining Corporation joined the TSPS silver anniversary with the theme:  TSPS @25: Continuing its Legacy for Marine Resources Conservation and Food Sustainability. (PIA)