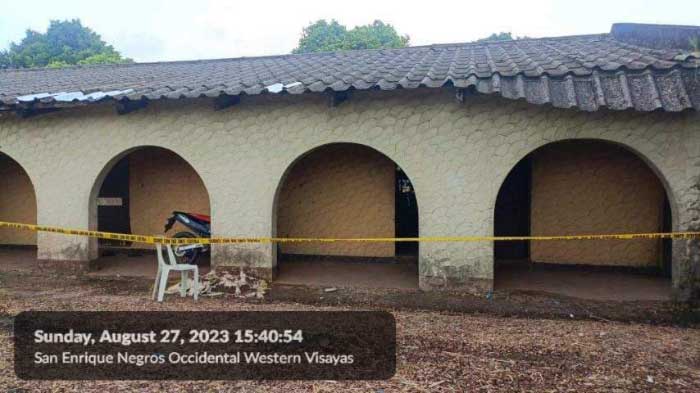 By Glazyl Y. Masculino
BACOLOD City – Two persons were dead while three others were wounded in separate stabbing and hacking incidents in Negros Occidental last Sunday.
In Binalbagan town, Jomarie Getunzo, 42, of Barangay San Vicente died, while his younger brother Ernesto, 40 was wounded after they were allegedly attacked by five suspects in the said village around 10:30 p.m.
Based on police investigation, Jomarie and the five suspects figured in a commotion after a drinking session.
The suspects allegedly ganged up on Jomarie and hacked him, prompting Ernesto to pacify the commotion.
But the suspects also allegedly hacked and stabbed Ernesto.
The victims were taken to Binalbagan Infirmary, but Jomarie was declared dead.
Policemen conducted a pursuit operation and arrested one of the five suspects identified as Alexander Dela Peña, 27, of Isabela town.
Dela Peña was apprehended when his get-away motorcycle crashed while being pursued by policemen in Barangay San Jose.
The suspect suffered minor injuries and is now detained at Binalbagan Municipal Police Station, while four others are still at large.
In San Enrique town, Gilbert Brinio, 24, died, while his two relatives Elmer Langote, and Ronaldo Anacleto, all residents of Culasi, Antique were wounded after they were allegedly hacked by Raymund Langote inside their barracks at Hacienda Candelaria, Barangay Baliwagan around 2:30 p.m.
Police Major Leo Estopa, chief of San Enrique Municipal Police Station, said the victims were sleeping inside their barracks when the suspect allegedly hacked Brinio.
Elmer and Anacleto tried to pacify the suspect but the latter also hacked them.
Brinio was declared dead, while the other victim is under observation in a hospital and the other is already stable.
Estopa said the suspect was arrested in Barangay Old Baliwagan with the help of Barangay Guintorilan officials when he was sighted in the area.
The suspect was wounded after he tried to harm himself by slashing his neck when he escaped.
Estopa said the suspect is now under hospital arrest.
He said that grudges against an overseer triggered the suspect to commit the crime. But, according to their overseer, they have no previous altercation or misunderstanding.
Estopa said that the suspect's co-workers believed that he may have a problem.