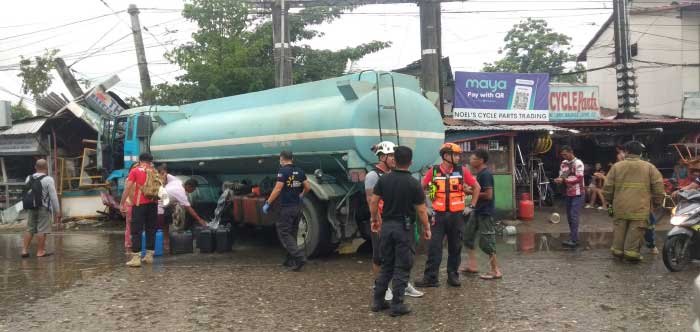 By Jennifer P. Rendon 
Two persons were killed while 17 others were wounded when a water tanker truck plowed into a bakery and a drug store in a populated area of Baldoza-Ingore in La Paz, Iloilo City late afternoon of June 11.
The fatalities were identified as Oliver Parreñas, 22, of Zone III, Baldoza, La Paz, and Jey Ann Caburog, 14, of Zone I, Baldoza.
Both victims were declared dead on arrival at the hospital.
The injured were;
-Charito Sumagpao, 24, of Nueva Valencia, Guimaras;
-Police Staff Sergeant Ricky Ardamoy, 39, of Barangay Caingin, La Paz;
-Joy San Bantulo, 15, of Baldoza, La Paz;
-Bonie Parreño, 22, of Pototan, Iloilo;
-Michelle Jabanag, 13, Baldoza, La Paz;
-Loreto Clamor Jr., 30, of Barangay Bato, Sagay City, Negros Occidental;
-Helen Galvez, 63, of Baldoza, La Paz;
-Emely Anacan, 51, of Baldoza, La Paz;
-Delia Ungsod, 46, of Baldoza, La Paz;
– Rhyn Princess Ungsod, 13, of Baldoza, La Paz;
-Ana Mae Lingcod, 15, of of Baldoza, La Paz;
-Miguel Jazmine, 65, of Baldoza, La Paz;
-Jun Mark de la Cruz, 37, of of Baldoza, La Paz;
-Rizz Mark de la Cruz, 10, of of Baldoza, La Paz;
-Erish Nicole Dumdum, 13, of of Baldoza, La Paz;
-Rica Jane Ungsod, 19, of Baldoza, La Paz; and
-Ritz Shahera Faith Ungsod, 11, of Baldoza La Paz.
Sumagpao works for Bombo Radyo-Iloilo while Ardamoy is a traffic investigator of the Iloilo City Police Office (ICPO).
The deadly incident did not happen after the Isuzu water tanker truck (license plate LMF 165) rammed into a bakery and a drug store.
Instead, the deaths occurred after two rescue trucks pulled the tanker truck from the wreckage.
Lieutenant Colonel Ethan Estaya, chief of ICPO Traffic Investigation and Enforcement Unit (TIEU), said most of the victims were residents who were at the scene of the incident.
"In short, most of them, nag-Marites lang," he said.
In Filipino pop culture, Marites refers to a person who digs up and keeps track of everything, preferably bizarre, usually on social media. It is a contraction of the phrase "Mare, ano ang latest (What's the latest, my friend)?
In several instances, residents, particularly minors, were told to leave the area but they kept on coming back to observe the investigation.
Police reports indicated that the first incident happened around 4:45 p.m. Sunday when the truck driven by Danilo Dayon, 61, of Barangay Cagamutan Norte, Leganes, Iloilo went wayward as he was navigating from Baldoza Bridge towards Barangay Loboc, La Paz.
As he was negotiating the intersection of the coastal road, Dayon allegedly lost control of the steering wheel and crashed into a bakery and a drug store. One person was hurt at that time.
Estaya said they immediately conducted a traffic investigation until the second incident happened.
An Isuzu rescue truck (license plate RHV 617) pulled the water tanker truck by the rear.
Subsequently, the Iloilo City Emergency Response (ICER) truck tugged the water tanker truck forward.
A certain Ildefonso Herrera, 26, of Barangay Kasing-Kasing, Molo, was driving the ICER truck while Darryl Darwyin Thulasidas, 26, of Barangay South Fundidor, Molo was driving the Isuzu truck.
Estaya said Thulasidas, a member of the City Disaster Risk Reduction and Management Office, volunteered to maneuver the water tanker truck.
Police reports indicated that the "water tanker accidentally started (its) engine and accelerated."
"It's possible that he (Thulasidas) could have stepped on the gas pedal, instead of the brake pedal. That's why, the truck suddenly accelerated," Estaya said.
The tanker rammed into five motorcycles and hit the rear portion of the first rescue truck.
After the incident, police arrested Thulasidas.
SECOND LIFE 
While she was saddened by the death of two individuals, Sumagpao said she was happy to have survived the incident.
"I am thankful for the person who pulled me after I got hit. He could have run and saved himself but he didn't hesitate in helping me," she said.
Sumagpao said she already finished her interview with the investigators when the incident happened.
They were at a distance far from the initial scene of the incident.
She then heard someone yelling for people to step aside.
But to their surprise, the water tanker truck accelerated and hit the motorcycles and several individuals.
She also ran but fell after her foot got hit.
Sumagpao was seconds from certain death when someone pulled her from danger.
Meanwhile, Parreñas, one of the two fatalities, was just supposed to place his bet on the small town lottery (STL) when the incident happened.
He happened to pass by the area and checked the incident.
As fate would have it, the truck hit him as it was being maneuvered.