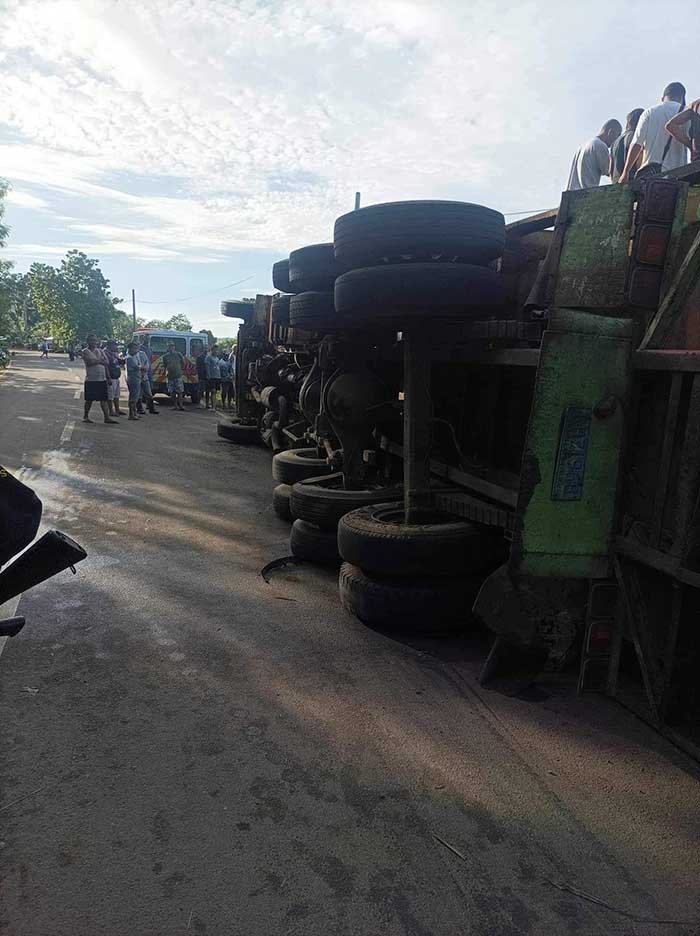 By Glazyl Y. Masculino
BACOLOD City – A senior citizen and a woman died in separate road accidents in Negros Occidental on Friday and Saturday.
In Ilog town, a woman was killed when she was crushed by sugarcane that fell from a 14-wheeler truck at Sitio Cabcab, Barangay Tabu, Ilog town last Friday.
Major Joseph Partidas, Ilog town police chief, identified the victim as Alma Claridad, 46, of the said village.
Partidas said the victim was walking on the roadside when she saw from a distance that the truck was already swerving.
She tried to avoid the truck, but the vehicle went towards her direction and fell on its side, causing the sugarcane to fall.
Partidas said the right tire of the truck exploded which caused the driver to lose control over the vehicle.
"Wala niya na ma control tungod sa bug-at," he added.
It took about an hour for the rescuers to remove the victim, who was declared dead in a hospital, Partidas said.
The truck was loaded with 35 to 40 tons of sugarcane, according to the traffic investigator.
Partidas said the truck driver fled due to fear. But he was later reached by the victim's family. Both parties had an initial settlement, according to Partidas.
The following day, an 89-year-old woman also died after she was hit by a motorcycle in Barangay San Jose, Binalbagan town.
Police identified the victim as Francisca Ortega of the said village.
Police Senior Master Sergeant Aldrin Alindao, traffic investigator, said the victim was crossing the street when she was hit by an alleged speeding motorcycle.
Alindao said the victim would usually cross the street, but at that time, her family reportedly failed to notice that she went out of their house.
The victim suffered multiple injuries and was declared dead in a hospital.
Alindao said the 51-year-old motorcycle driver also suffered minor injuries and was already released from police custody, following an initial settlement with the victim's family.