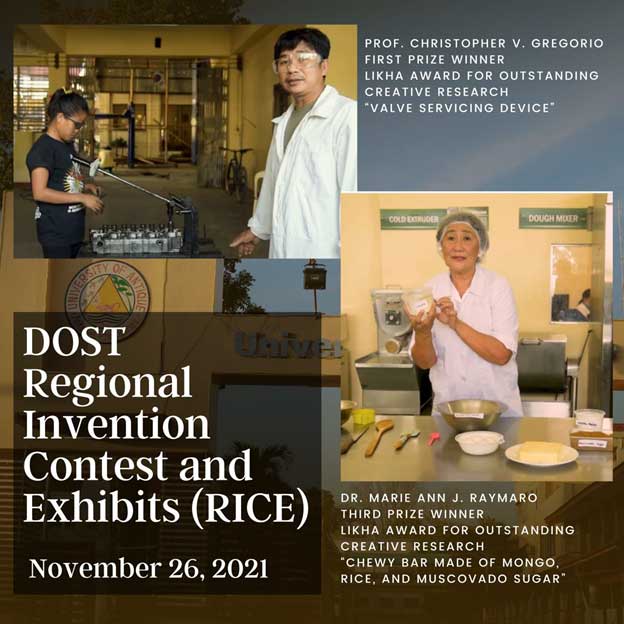 The Department of Science and Technology (DOST) VI Regional Invention Contest and Exhibits (RICE) 2021 recognized two faculty creative researchers from the University of Antique Main Campus during the RICE Region VI and III awarding ceremonies held on November 27, 2021 via Zoom and Facebook Live.
Prof. Christopher V. Gregorio, faculty of the College of Technology, was announced the regional winner and was conferred the Likha Award for Outstanding Creative Research for his "Valve Servicing Device."
In addition to this award, Prof. Gregorio also emerged the winner in the Best Video Presentation category for his entry.
The Valve Servicing Device is used in engine valve lock installation and removal in automotive engines.
"Anybody who wants to perform engine repair or overhauling is forced to transport the vehicle to the manufacturer which is costly and difficult. The Valve Servicing Device can save more time, effort, and labor cost in the field of cylinder head servicing," Prof. Gregorio said in his video presentation.
(Watch Valve Servicing Device video presentation: https://www.facebook.com/watch/?v=281110253786889)
Dr. Marie Ann J. Raymaro, Extension Services director, however, sealed the third prize for the Likha Award for Outstanding Creative Research with her "Chewy Bar Made of Mongo, Rice, and Muscovado Sugar."
The chewy bar was part of the complementary food produced by UA's Complementary Food Production Facility – Technology and Livelihood Resource Center to address malnutrition problems in Antique.
"This study determined the significant proportion of malnourished children who were rehabilitated using the chewy bar complementary food," Dr. Raymaro said in her video presentation.
The study revealed that a significant proportion of more than 50% of children were rehabilitated from their malnourished state after availing of the complementary food; these children were mainly from the municipality of Tobias Fornier.
(Watch Chewy Bar video presentation: https://www.facebook.com/watch/?v=416687803458308)
On the other hand, Dr. Susan F. Atienza, Research and Development director, was one of the finalists under the Unlad Award for Outstanding Utility Model for her "Process of Producing Natural Ginger Tea."
(Watch Process of Producing Natural Ginger Tea video presentation https://www.facebook.com/watch/?v=604733657645424)
"This feat validates the effort of the University in achieving one of its function- research, and its utilization," Dr. Pablo S. Crespo Jr, university president, said.
He stated further that "HEIs are to generate new knowledge and technology and share the same to the stakeholders."
Meanwhile, Prof. Gregorio is preparing to represent Region VI in the National Invention Contest & Exhibits (NICE) as the RICE winner in the creative research category.
This milestone was also made possible by the Intellectual Property Rights/Management Office of the university headed by Prof. Debbie Jean V. Sabug and by the Office of Research, Extension, and Continuing Education and Training Services headed by Dr. Nanette V. Dionisio. (𝐈𝐀𝐏)