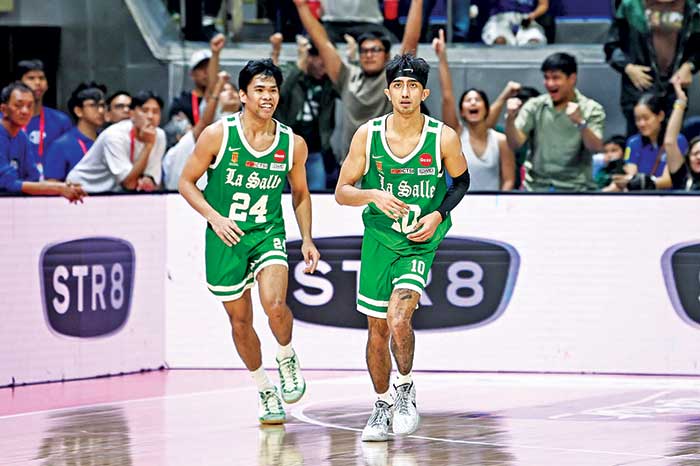 By Leobert Julian A. de la Peña
The De La Salle University (DLSU) Green Archers showed nerves of steel and survived a late run from the Ateneo de Manila University (ADMU) Blue Eagles, 72-69, to secure a sure spot in the UAAP Season 86 men's basketball Final Four last November 18, 2023.
After building a double-digit lead heading into the final frame, the Tab Baldwin-led Ateneo squad refused to give up and turned the tables after trimming their deficit to just a deuce, 58-56, with 5:45 remaining in the intense clash.
However, the Green Archers responded with a huge counter-run to repel the Blue Eagles while assuring themselves of a top-two finish in the eliminations.
Joshua David ended DLSU's dry spell after answering Ateneo's run with a clutch three-pointer from the left corner to extend their cushion back to five points, 61-56.
After completing a defensive stop, Evan Nelle rushed to the other end of the court and drilled a much-needed pull-up three-pointer to help DLSU retake the momentum while re-establishing an eight-point lead.
Down by eight points with 3:44 remaining in the game, the Blue Eagles hosted one final push to get to within a point, 66-65, after made baskets from Kai Ballungay, Joseph Obasa, and Jared Brown.
Refusing to replicate what happened during their first-round loss to Ateneo, Nelle once again stepped up for the Green Archers and buried a cold-blooded running jumper to put DLSU up by three points, 68-65.
Michael Phillips added another deuce to help the Green Archers keep a five-point lead, 70-65, but Ateneo's Chris Koon was quick to reply with a jumper, 70-67, with 37 seconds left in the game.
Ateneo had a chance to equalize the ball game to 70-all after a Brown attempt from downtown, but his shot didn't convert which forced them to foul Nelle who cashed in both shots from the charity stripe.
For the second straight time, the Blue Eagles had the chance to force an overtime period when Phillips missed both of his shots from the free throw line but only had three seconds to generate a shot from full-court due to their lack of timeouts.
Nelle and Mark Nonoy joined hands to produce 20 points while Phillips nabbed a huge double-double of 10 points and 14 rebounds.
With the win, the Green Archers are now assured of a top-two spot in the Final Four and will look to end their UAAP drought once the playoffs kick off.