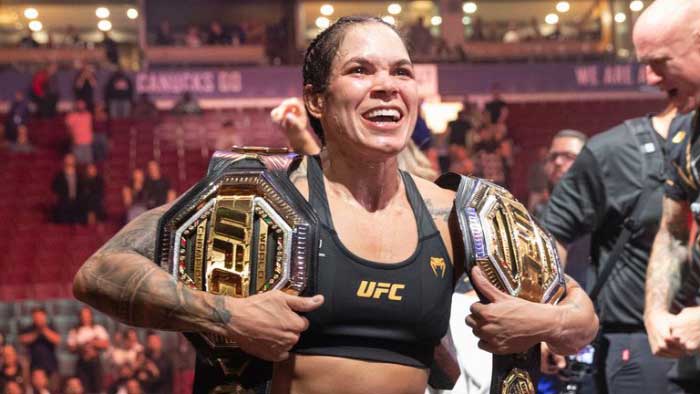 By Leobert Julian A. de la Peña
There will never be another Amanda Nunes in the history of Mixed Martial Arts (MMA).
The Brazilian heavy striker got the job done once again after imposing her will on Irene Aldana to retain her bantamweight and featherweight championship belts in the main event of UFC 289 last June 11, 2023, but stunned the whole MMA world when she announced her retirement inside the octagon.
After Bruce Buffer's official match-winner announcement, Nunes said a few words to Daniel Cormier and began to search for a pair of scissors to loosen up her gloves.
The double-champion then laid all of her two belts on the ground including her gloves and kneeled between them, kissed them one by one, while bidding goodbye to all of her loyal UFC fans.
Nunes then stood up and looked at her championship belts while screaming: "Double champion forever baby!"
Perhaps the most dominant female UFC fighter of this decade, Nunes revealed that her family couldn't take the punishment she receives whenever she gets called up by Dana White for a blockbuster clash inside the octagon.
"My mom was asking me so much to do this for so long, she can't take it anymore. My partner as well, Nina, she's been around so much with me my whole career," Nunes announced.
It was then a fitting ending to Nunes' sensational professional career after making a lasting impression during her fight against Aldana.
Nunes was supposed to engage against Juliana Pena, the fighter that upset her last 2021 but had to pull out when she suffered a rib injury.
Aldana then took the risk of fighting the high-caliber world no. 1 and just got outclassed in the striking department.
Despite all the takedown attempts Aldana tried to keep Nunes out of her rhythm, the more experienced Brazilian champion continued to step on the gas pedal and just ran over her to secure a comfortable unanimous decision win.
Nunes will be exiting the UFC with an impressive 23-5 win-loss record and will forever be remembered when she knocked out former champion Cris Cyborg way back 2018.
After the win over Cyborg, Nunes would then dominate the entire female division and only lost once in eight years, one of the most impressive records in pro MMA.