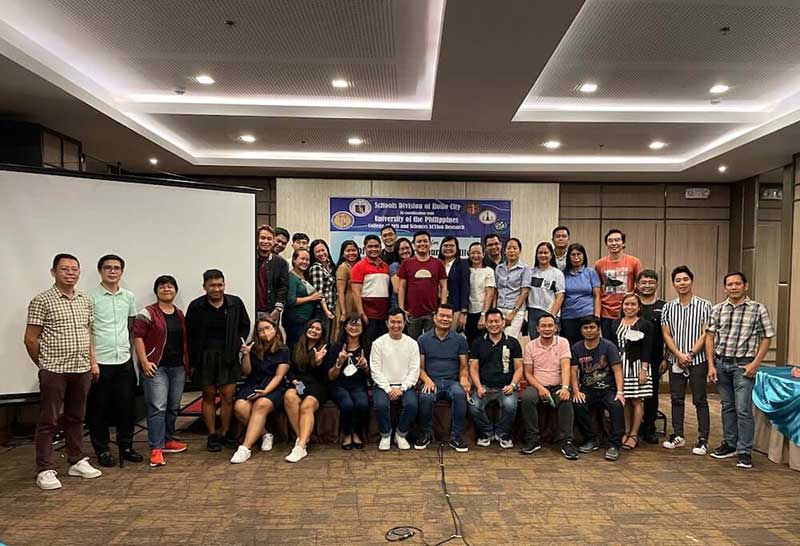 In its continuous pursuit of mainstreaming action research in the basic education sector, the DepEd Schools Division of Iloilo City (DepEd SDO-Iloilo City), through its Schools Governance and Operations Division (SGOD), in partnership with the University of the Philippines Visayas College of Arts and Sciences (UPV – CAS) ACTIon Research Project, held a workshop for Division Research Journal Editors on April 25-26, 2022 at Smallville 21 Hotel in Mandurriao, Iloilo City.
The two-day lecture-workshop consisted of discussions and sessions on the American Psychological Association (APA) 7th edition publication manual's guidelines on referencing and layouting of tables/figures, writing style for research journal articles, proofreading and copyediting, and publication process management.
Resource persons for the workshop were the UPV Action Research Project implementers from the CAS Community Outreach Program – BIDANI (COP-BIDANI), Division of Professional Education, Division of Humanities, and Division of Social Sciences.
The Project Co-Manager, Mx. John Bert "Rinj" Tutisura, discussed important aspects of copyediting and proofreading. They also highlighted common errors, such as grammar, syntax, vocabulary, and mechanics of style.
Division of Humanities instructor and Assistant Project Manager, Mr. Prabhat Ranjan Ubas, on the other hand, discussed updates on the APA 7th edition, referencing and layouting of tables and figures.
Meanwhile, Prof. Early Sol Gadong, Project Manager and Division of Professional Education Assistant Professor, discussed the importance of gender-fair and person-centered writing. Prof. Gadong emphasized the use of gender-neutral language or gender-inclusive language to reduce gender stereotyping and discrimination in writing.
The newly appointed Information and Publications Office (IPO) Director and Project Implementer, Ms. Gerthrode Charlotte Tan-Mabilog, discussed grammar and technical writing. She presented ways to correct writing-related issues in publication. She also encouraged participants to keep up with the trends in editing and publication.
Prof. Augil Marie Robles of the Division of Social Sciences, Prof. Ronela Jundos, Prof. Jeena Amoto, and Mr. Rey Alexander Palmares of the Division of Professional Education, and Ms. Elna Mariel Nanta of COP-BIDANI, facilitated the workshop sessions on journal article content guidelines, documentary attachment templates, publication process flowchart, and the publication calendar.
The DepEd SDO-Iloilo City SGOD Chief Education Supervisor Dr. Jerry M. Lego, during the closing program, said, "with the learnings that we have for this two-day workshop, we are being challenged to always be at our best, to be the best, not only for ourselves but also for our learners and fellow teachers. With our plans to produce our own division research journal to disseminate and utilize our research results, may we become champions."
He added that "there are more activities to come to the Schools Division with UPV and the Action Research Project by our side."
The participants accepted the challenge with a resounding "Yes!" and are looking forward to putting their learnings to the test as they start their publication journey in May 2022.
Also present at the lecture-workshop was the DepEd SDO-Iloilo City OIC-Assistant Schools Division Superintendent Dannie Clark M. Uguil, who inspired the participants with his presence and message. (Mr. Prabhat Ranjan Ubas)