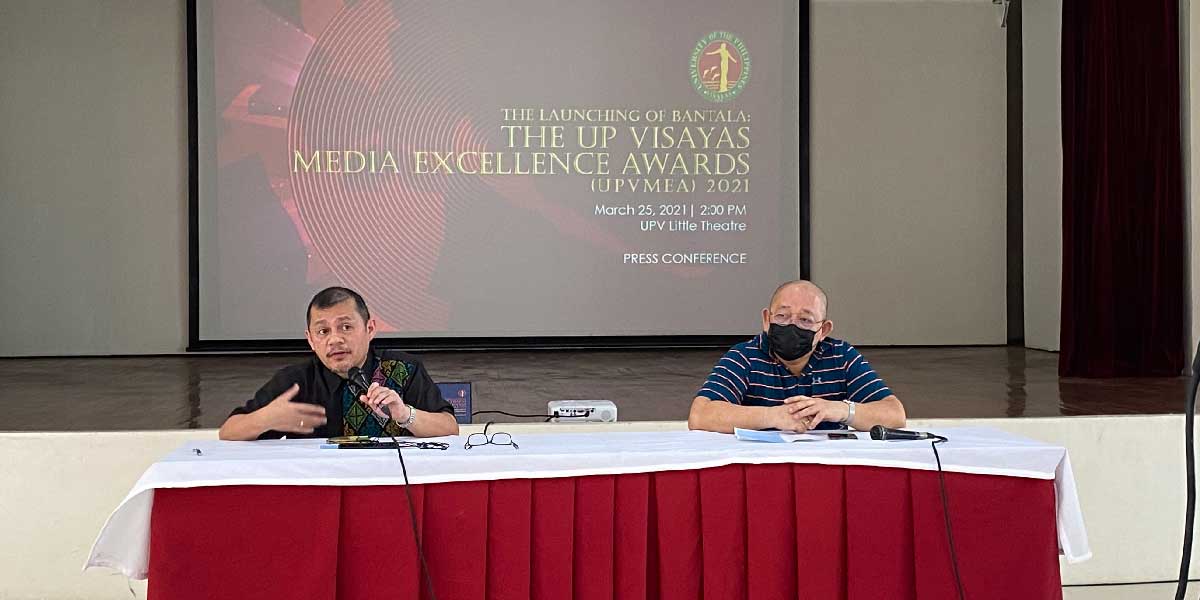 By Joseph B.A. Marzan
The University of the Philippines-Visayas (UPV) aims to recognize the work of journalists in upholding and preserving democracy amid the convergence of traditional and social media through "Bantala: UPV Media Excellence Awards" (UPVMEA), which was launched on March 25, 2021 at the UPV Iloilo City campus.
UPVMEA seeks to evaluate and recognize the covering, writing, reporting and publishing of news stories on different media platforms with focus on some key issues.
The award's title, "Bantala", is a Hiligaynon term which refers to announcement, information, news, publication, or notification (as a noun); and to publish, inform, and advise (as a verb).
It aims to recall the stellar careers of West Visayan journalists such as Don Rosendo Mejica, Graciano Lopez Jaena, Russel Tordesillas, Flavio Zaragoza Cano, and Conrado Norada, to name a few.
UPVMEA is spearheaded by Dr. Zoilo S. Andrada Jr., Project Development Assistant for Mass Media and Communication of the Office of the Chancellor.
Themed "Medya: Kaupod sang rehiyon sa Pagtib-ong sang Tunay nga Demokrasya", the awards will judge published stories about events in Western Visayas be it in print, radio, or online news outlets, blogs, or social media. The stories must be published from April 2021 to January 2022 and will focus on four themes:
– Deepening participatory democracy;
– Protecting human rights and fighting corruption;
– Fighting against disinformation; and
– Addressing various forms of marginalization.
There will be two major award categories: Category A which includes newspapers and radio, and Category B which covers blogs, social media campaigns and advocacy, and news portals.
Languages which are eligible for awards are English, Hiligaynon, Kinaray-a, and Aklanon.
UPV Chancellor Clement Camposano said during the launching press conference on Thursday that the final categories and mechanics will be released soon.
Camposano highlighted the importance of the media at this time, especially in democratic policies, here in the Philippines and in other countries.
He cited the increased use of social media that led to the rise of authoritarian leaders and their policies via disinformation propagated by several groups, as well as the rise of the so-called "call-out culture".
"Times have changed. The challenges facing media now are much more complex than what used to be the case. No other time is the accuracy, publicity, and relevance of news and information more crucial to democratic politics than today," Camposano said.
The chancellor also touted the UPVMEA as a recognition of how organizations and individuals who report stories on both traditional and new media navigate and measure to the convergence of platforms and practice.
"We need to focus on the many ways media organizations and practitioners navigate and measure up to this complex and digitally-enabled media environment. That is what this award is trying to address," he said.
Since Camposano's installment as UPV Chancellor, the university has ramped up its ties with the media, the most recent of which was the hosting of the 3rd National Conference on Democracy and Disinformation.
He promised to initiate more efforts to promote press freedom and a better local media landscape.
The deadline for entries during the nomination and selection period is on January 31, 2022, with the final judging and awarding in February 2022.