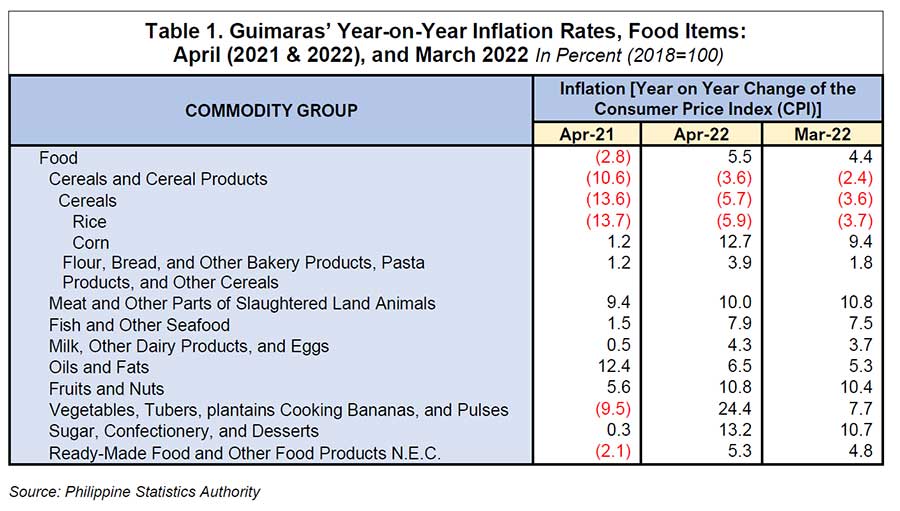 The vegetable commodity group, which includes tubers, plantains, cooking bananas, and pulses fueled annual food inflation to a 5.5 percent hike in April 2022, from 4.4 percent in March 2022.
The April 2022 figure is also higher by 8.3 percentage points than the
-2.8 percent inflation in April 2021, based on the Retail Price Survey of Commodities for the Generation of Consumer Price Index of the Philippine Statistics Authority (PSA).
"Aside from the vegetable commodity group, with 24.4 percent inflation in April 2022, other heavily-weighted food items belonging to the top 3 food groups that pushed the year-on-year marks up in the prices of food items were: Flour, Bread, and Other Bakery Products, Pasta Products, and Other Cereals with 3.9% inflation, and Fish and other Seafood with 7.9% price increment," Provincial Statistics Officer Nelida B. Losare said. 
Sugar, confectionery, and desserts (13.2%); Milk, other dairy products, and eggs (4.3%); Fruit and nuts (10.8%); ready-made food and other food products N.E.C. (5.3%); Oils and fats (6.5%); and Corn (12.7%) contributed to faster food inflation in April.
Only two food commodity groups posted slower inflation – Cereals and cereal products at
-3.6% from the -2.4%, and Meat and other parts of slaughtered land animals at 10.0 from 10.8 percent a month ago.
"The April 2022 food inflation got the second-highest year-on-year change of the CPI since April 2021," Losare said.
Losare added that for the past 13 months, food inflation in Guimaras showed an erratic trend from -2.8 percent in April 2021, constantly moving upward until the year ends.
The 5.4 food inflation in December 2021 continually moved faster, reaching a 9.4 percent peak in January 2022, slowed to 3.2 percent in February, and moved quickly to 4.4 and 5.5 percent in March and April 2022, respectively.
Meanwhile, the average food inflation for the first four months of the current year stood at 5.6 percent, higher than the -0.3 percent average inflation in the same period a year ago.
"The slowest average food inflation for the past three years was seen in 2021 at -0.3%, while the fastest at 5.0% was in 2019," Losare said.
The fastest food inflation in 2019 was at 8.6 percent nailed in the first three months of the year, while in 2020 and 2021, the highest was at 5.1 and 5.4 percent in April and December, respectively, still slower than the 2019 level. (See Table 1)