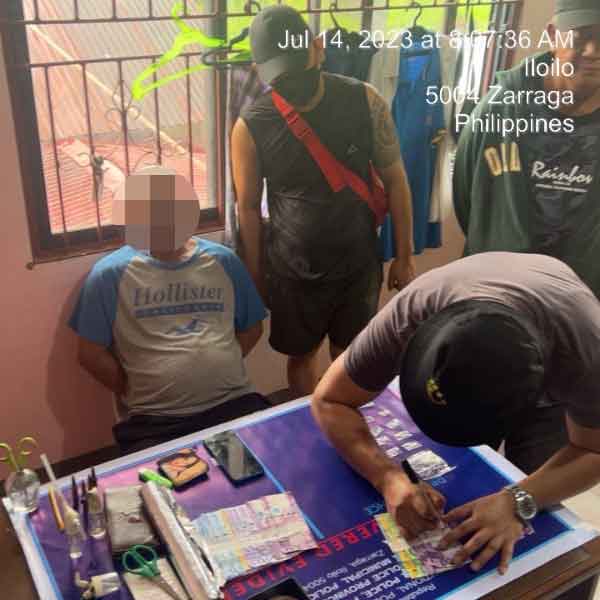 By Jennifer P. Rendon
Another village official was arrested in a police anti-narcotics operation morning of July 14, 2023 at Zarraga, Iloilo.
Barangay Captain Bernard Galache, 55, was nabbed at the barangay hall of Inagdangan Centro village in Zarraga.
Members of the Zarraga Municipal Police Station, together with the Iloilo Police Provincial Office-Provincial Drug Enforcement Unit (IPPO-PDEU), IPPO Provincial Intelligence Unit, and 2nd Iloilo Provincial Mobile Force Company (IPMFC), busted Galache who allegedly sold a sachet of suspected shabu for P22,000.
When he was later frisked, police operatives seized nine more sachets of suspected shabu, a wallet, various drug paraphernalia, and several non-drug items.
Captain Raphy Señeres, Zarraga police chief, said the seized drugs weighed around 12 grams and were valued at P81,000.
Galache has been placed under monitoring following reports that he was engaged in the illegal drug trade.
Last month, a suspected drug peddler who was arrested in Zarraga pointed to Galache as one of his suppliers.
Señeres said the suspect used to deliver his peddled drugs to customers but had resorted to having clients pick them up at the barangay hall.
"He's been using the barangay hall like his own house. He's sleeping there and doing the usual stuff. He has also his personal belongings inside," he said.
Galache has been serving his first term as barangay captain and planned to run for a second term.
More than two weeks ago, a barangay captain from San Enrique, Iloilo was also arrested for allegedly engaging in the illegal drug trade.
Elvie Paez, 47, of Lip-ac village, San Enrique, was collared at the nearby Barangay Palje on June 26.
He yielded 10 more sachets of suspected shabu.
Just like Paez, Galache will also be charged for violation of Sections 5 and 11 of Republic Act 9165 Comprehensive Dangerous Drugs Act of 2002).
Earlier, it was reported that 430 barangay officials are on the PNP's watchlist of suspected illegal drug personalities.
The 76 officials from Western Visayas are composed of both high-value and street-level individuals.
But it's highly possible that Paez was not included on the list.
Twenty of the 76 drug-linked officials are punong barangay (barangay captains) while 56 are barangay kagawad (village councilmen).
Of the 20 barangay captains, five are from Negros Occidental while Iloilo and Antique province have four each; Aklan and Capiz with 3 each; and Iloilo City with one.
For barangay kagawad, Capiz has the most number with 17; Iloilo province with 11; Negros Occidental 10; Aklan and Antique with 8 each; and Bacolod City and Iloilo City with one each.