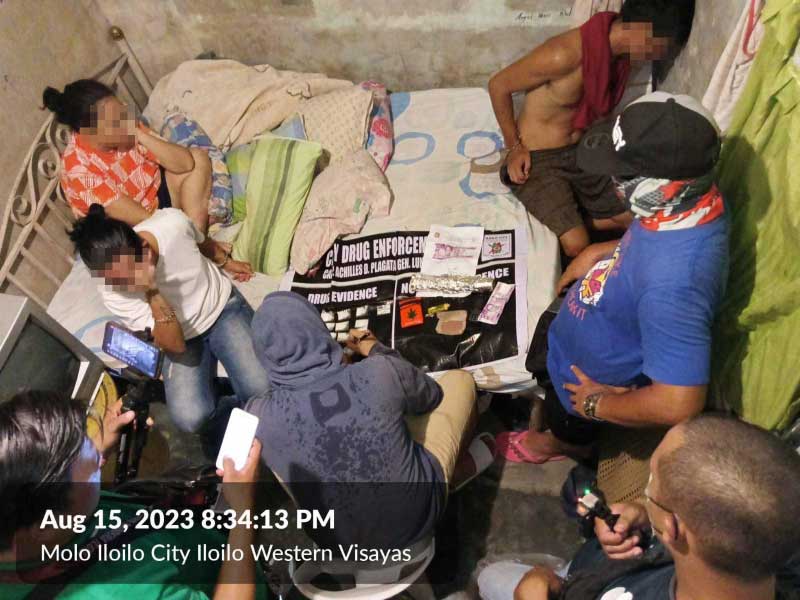 By Jennifer P. Rendon
Three persons, including a lady barangay tanod or village police, were arrested in an anti-illegal drug operation evening of August 15 in Molo, Iloilo City.
Shiera Mae Garcia, 37, a tanod of Barangay Calumpang was arrested along with her live-in partner, Fritz June Asilo, 38, and Fritz June's sister-in-law, Jessan Asilo, 42.
Members of the Iloilo City Police Office-City Drug Enforcement Unit (ICPO-CDEU), together with the Iloilo City Police Station, nabbed the trio for allegedly selling two sachets of suspected shabu for P10,000.
Police also seized from them 13 more sachets of suspected shabu, two coin purses, a mobile phone, a lighter, and an aluminum foil.
Police conducted a three-week monitoring on Garcia, the main target of the drug bust.
Gimeno said they have been receiving reports that the woman allegedly used her position as barangay tanod as a cover-up for selling illegal drugs.
"When she goes on duty, she also sells shabu to her clients," Gimeno said.
Garcia and Fritz June had utilized Jessan as their alleged runner.
While they did not admit to selling drugs, the suspects admitted to using illegal drugs.
All of them have no previous drug-related arrests.
But Jessan was arrested before for an illegal gambling offense.
The suspects are now detained and will be charged for violation of Republic Act 9166 (Comprehensive Dangerous Drugs Act of 2002).