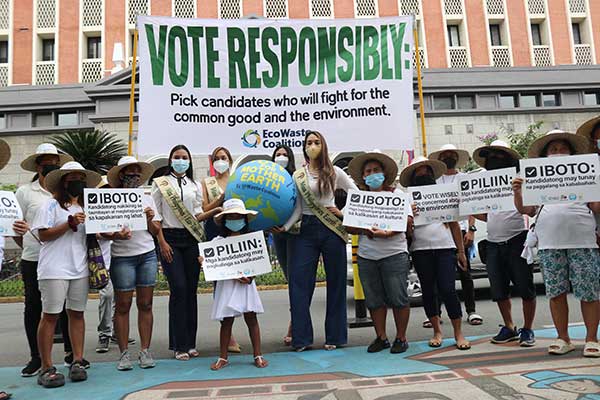 With election day just around the corner, various groups gathered outside the Comelec headquarters in Manila to urge the voting public to choose for national and local candidates who genuinely care for the people and the environment.
At an event dubbed as "Pagninilay para sa Halalang 2022," representatives of the Caritas Philippines, EcoWaste Coalition, Miss Earth Foundation, Parish Pastoral Council for Responsible Voting (PPCRV- Archdiocese of Manila), and the Samahan ng mga Mangangalakal ng Scrap sa Capulong asked the electorate to carefully discern and select pro-people and pro-environment candidates for the sake of our nation's future.
Also gracing the event held on a Holy Tuesday were pro-environment beauty titlists Naelah Alshorbaji (Miss Philippines Earth 2021) and her court, namely: Veronica Meneses (Miss Fire Philippines), Ameera Almamari (Miss Air Philippines), and Sofia Lopez Galve (Miss Eco Tourism).
"As we enter the final stretch of the May 9 poll campaign, we appeal to the electorate to vote into office women and men who sincerely care for Mother Earth and the people.  We need public servants who will fight corruption, garbage and pollution and stand for sustainable, zero waste and toxics-free development for all," said Aileen Lucero, National Coordinator, EcoWaste Coalition.
Father Enrico Martin Adoviso, Minister on Socio-Political Advocacy (the body that oversees the PPCRV-Archdiocese of Mania)said: "As good citizens of our beloved nation, let us forge unity and vote responsibly towards clean, honest, accurate, meaningful and peaceful (CHAMP) elections.  Please be mindful of our right and duty to use our free vote to further the common good, which also includes the respect for the integrity of creation."
For his part, Father Antonio Labiao, Jr., Executive Secretary, Caritas Philippines, said: "As stewards of God's creation, we have the solemn obligation to elect public officials who will lead us into restoring, not destroying, our degraded environment.  Our failure to do so will make it ever more difficult for our communities and our country as a whole to overcome the environmental challenges before us."
Some of these challenges facing the Filipino people today include global warming and climate change, air, water and soil pollution, waste-to-energy incineration, plastic pollution, hazardous chemical exposure, natural resource depletion, biodiversity loss, and environmental injustice, to cite a few.
To drive their message home, the activists brought with them a globe with the words "Vote for Mother Earth" written on it.  They also brandished a banner that reads "Vote Responsibly: Pick candidates who will fight for the common good and the environment," and held placards that say "Piliin: Kandidatong may pagkalinga sa kalikasan," "Iboto: Kandidatong magpapatigil sa mga industriyang nakakasira sa kalikasan at kultura," "Iboto: Kandidatong makikinig sa taumbayan at magtataguyod sa kapakanan ng lahat," and "Iboto: Kandidatong may tunay na paggalang sa kababaihan."
The event concluded with the recital of the CBCP-endorsed "Prayer for the 2022 National and Local Elections."