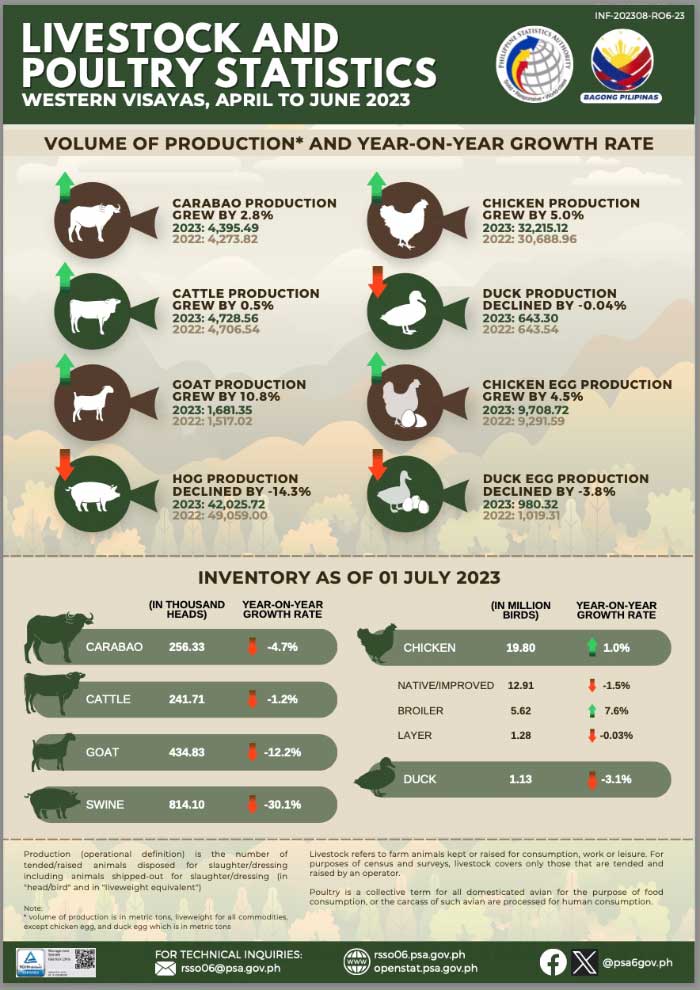 By Rjay Zuriaga Castor
The hog and duck industry in Western Visayas saw a drop in the past six months, the Philippine Statistics Authority (PSA) reported.
The Philippine Statistics Authority (PSA) reported that hog production in the region registered at 42.03 thousand metric tons (MT) for the second quarter of 2023, which is 14.34 percent lower compared to 49.06 thousand MT in the same period last year.
The number of hogs slaughtered in the region also decreased to 2.10 percent or 226,992 heads only.
Based on the latest data of the Department of Agriculture-Region 6, losses due to ASF have reached P762.5 million, where a total of 79,376 hogs either died or were depopulated in six provinces.
Capiz has the highest number of hog mortalities and depopulated swine heads at 47,645, or P428.9 million worth of damage.
Swine inventory in the region according to PSA was estimated at 814.01 thousand heads, with Negros Occidental contributing about half or 50.48 percent in the inventory, or an equivalent of 410.98 thousand heads.
The region also recorded a decline in both duck production and duck egg production. Duck production was 0.04 percent lower than the previous year's level, while duck egg production decreased by 3.83 percent in the same period.
Duck production and duck egg production were estimated at 0.64 thousand MT and 0.98 thousand MT, respectively.
Output increase in other livestock, poultry
Three of the four livestock animal types in the region recorded an increase in their production during the second quarter of 2023.
Carabao production grew by 2.85 percent (4.40 thousand MT), cattle production increased by 0.47 percent (4.73 thousand MT), and goat production also went up by 10.83 percent (1.68 thousand MT).
The region also recorded increased slaughter of these three livestock animals, with carabao slaughter up by 7.08 percent, cattle slaughtering increasing by 4.57 percent, and goat slaughter rising by 10.08 percent.
In terms of poultry, chicken production reached 32.22 thousand MT in the second quarter of 2023, marking a 4.97 percent increase compared to the same period in 2022.
Similarly, chicken egg production also increased, reaching an estimated 9.71 thousand MT or a 4.49 percent uptick.