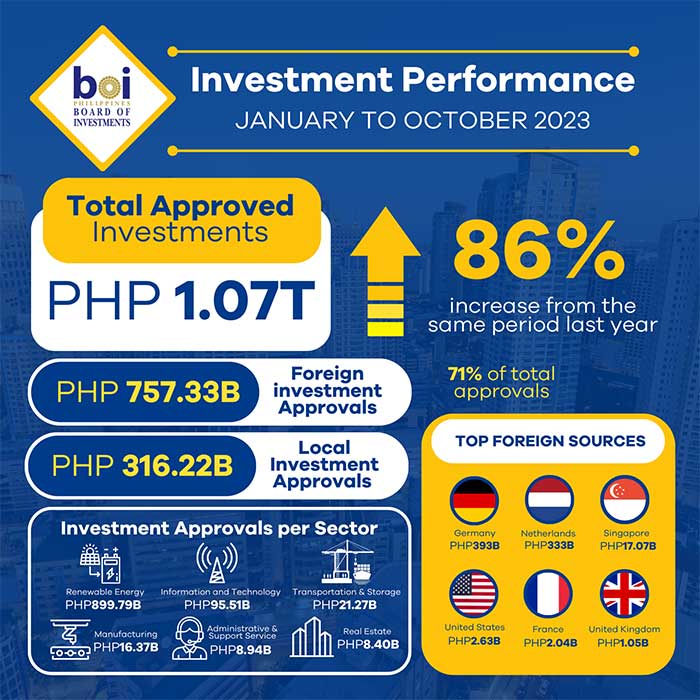 Western Visayas accounted for over Php300 billion in domestic investments that were approved by the Philippine Board of Investments (BOI), an attached agency of the Department of Trade and Industry.
In a statement, BOI said the investments in Western Visayas is part of the  Php1-trillion in investment approvals from January to October 2023.
The agency reached the mark after approving the new offshore wind power projects of Copenhagen Infrastructure New Markets Fund (CI NMF) Corporation valued at Php329.74 billion.
This translates to an 86-percent growth from last year's Php576.21 billion for the same period.
"The BOI hitting the trillion-mark in investment approvals proves that the Philippines is heading in the right direction to become Asia's premier investment destination of choice. Foreign investment pledges are at a record high. But the job is not done. Together with our other Investment Promotion Agencies (IPAs), we will continue to work to generate more investments into the country to provide more jobs for our countrymen," Trade Secretary and BOI Chairman Alfredo Pascual said.
The Philippines is poised for a record-breaking surge in investment approvals this year. Notably, the trillion-peso investment figure does not even include approvals from other IPAs. BOI approvals alone are set to contribute significantly to this remarkable year for investments with two months away before the year ends.
In the first ten months of the year, foreign investment approvals of BOI reached Php757.33 billion, a significant leap of 567 percent from last year's Php113.49 billion. In addition, domestic investment stands at Php316.22 billion.
As to the sources of foreign investments in the Philippines, the bulk of foreign capital came from Germany at P393.28 billion, followed by the Netherlands (P333.61 billion), Singapore (P17.07 billion), the United States (P2.63 billion), France (P2.04 billion), and United Kingdom (P1.05 billion).
At the domestic level, investments in Western Visayas topped the list at Php307.25 billion, with CALABARZON taking up second place at Php167.11 billion. Further, the Bicol Region (Php162.92 billion), Eastern Visayas (Php128.22 billion), and Ilocos Region (Php122.18 billion) completed the top five regions.
The renewable energy and power sector took center stage in the Philippines' investment landscape, boasting a staggering Php899.79 billion in investments. This figure represents a remarkable 187 percent increase from last year's Php313.07 billion. Notably, this substantial commitment was primarily directed towards diverse projects in solar, wind, hydropower, and biomass, highlighting the sector's growing prominence.
The Information and Technology sector demonstrated strong growth, securing approvals totaling Php95.51 billion. Transportation and storage, particularly in water transport, also made a significant impact with Php21.27 billion in approved investments.
Additionally, the manufacturing sector featured projects valued at Php16.37 billion, and Administrative and Support Service Activities, including the IT-BPM industry, received Php8.94 billion in investments.
The BOI continues to target investment projects that will bolster the country's position as a regional hub for sustainability-, connectivity-, and innovation-driven manufacturing and services, as it pursues making its Php1.5 trillion target in investment approval happen in 2023.
Providing a total of 230 jobs for Filipinos, CI NMF (PH) Corp. will operate the following offshore wind power projects in various parts of the country: 1,000 MW San Miguel Bay Offshore Wind Power Project offshore of Camarines Norte and Sur; 650 MW Samar Norte Offshore Wind Power Project offshore of Samar, and 350 MW Dagupan Offshore Wind Power Project offshore of Pangasinan and La Union.
"This project is an example of the foreign investors' deepening interest in investing in the Philippines. It also shows that we are positioning our country as an ideal investment of choice, especially in green investments such as in renewable energy and green metals. I am confident that we can make more investments happen in the Philippines before the year ends," Trade Undersecretary and BOI Managing Head Ceferino Rodolfo said.
Coupled with the global transition to green energy, the country is seeking to be a regional hub for sustainability, connectivity, and innovation-driven manufacturing and services. Such a positioning strategy can be bolstered by focusing on the identified priority sectors of the government, namely: electric vehicles (EVs), smart/high-tech lighting manufacturing, outsourced semicon assembly and test, green metals, high-tech agriculture, renewable energy, and data centers/telco infrastructure.
2023 signifies the third consecutive year the BOI has surpassed the trillion-peso mark in investment approvals. The agency registered its highest investment approval of Php1.14 T in 2019, followed by Php1.02 T in 2020 despite the disruptions and challenges caused by the COVID-19 pandemic.
Aiming to grow beyond by going beyond, the BOI anticipates a continuous influx of investments throughout 2023, building upon the momentum of the first ten months of the year and ultimately setting the stage for another record year for Philippine investment approvals.