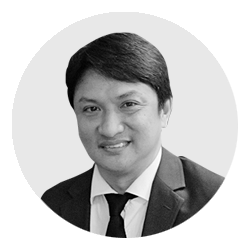 By Atty. Eduardo T. Reyes III
"But to fall in love does not mean to love. One can fall in love and still hate" remarked Fyodor Dostoyevsky in his novel The Brothers Karamazov.
Thus is the case of many hasty marriages between young couples. Taking the plunge into marital life early on without planning, their marriages are wrong-headed toward the  separation alley. They may have surely thought that since they had fallen in love, already they feel profound love for their spouse and they can sail into the sunset. But alas the two are not the same as posited by Dostoyevsky. And he makes a good point.
The pitfalls in marriage are many and they are unforgiving. The troubles that an ill-fated marriage can bring are incalculable. Personalities clash once the honeymoon is over. Then add financial woes. The pandemic. And finally, compound it with a tug-of-war over the custody of the children.
When the couple are separated, it is not only their marriage that is torn apart. Their children will be riven with bitterness and rancor. And because one of the deepest cuts is that caused by marital spats, revenge is thought to be sweeter when exacted against an estranged spouse.
When the conflict cannot be resolved at home, the battle shifts to the courtroom. This is where things can get really out of hand. Some unscrupulous women would summon Republic Act No. 9262 or the law on Violence Against Women and their Children (VAWC) to their fullest advantage. The said law entails criminal liability.  Section 5 (i), defines and punishes as a crime the act of "Causing mental or emotional anguish, public ridicule or humiliation to the woman or her child, including, but not limited to, repeated verbal and emotional abuse, and denial of financial support or custody of minor children of access to the woman's child/children".  
The cause for concern with this law is that the amount of support pursuant to Article 201 of the Family Code " x x x shall be in proportion to the resources or means of the giver and to the necessities of the recipient." Rightly so, support must reckon the financial capacity of the father/ husband.  The mother/ wife cannot ask for the sky when the father/ husband's financial means is toiling the earth. Yet, criminal cases are filed against fathers/ husbands not because they refuse to give support; but because the support they give is allegedly not enough.
Support too as envisaged under Article 194 of the Family Code "x x x compromises everything indispensable for sustenance, dwelling, clothing, medical attendance, education and transportation, in keeping with the financial capacity of the family. X x xThe education of the person entitled to be supported referred to in the preceding paragraph shall include his schooling or training for some profession, trade or vocation, even beyond the age of majority.
Transportation shall include expenses in going to and from school, or to and from place of work." 
            Notably, what are considered as within the ambit of the term "support" are only basic necessities- not luxurious ones. Yet many husbands or fathers are at the receiving end of a VAWC case simply because they cannot measure up to the fancy demands of their ex-wives who purportedly are demanding on behalf of the children.
Another card that may be played is emotional blackmail.  Cajoling the children to hate their father had been used as an effective tool to chisel him down to his knees. Two (2) doctrines under the law can be utilized for this purpose:
(1)The Tender-age doctrine (Art. 213, Family Code)- which states that "No child under seven years of age shall be separated from the mother unless the court finds compelling reasons to order otherwise"- which rule applies to both legitimate and illegitimate children; and,
(2) The "Choice of child over 7 years of age rule" (Art. 213, Family Code) which in turn provides that "The Court shall take into account all relevant consideration, especially the choice of the child over seven years of age, unless the parent chosen is unfit.
This doctrine applies only to legitimate children".
It is also important to underline that "As a general rule, the father and the mother shall jointly exercise parental authority over the persons of their common children.  However, insofar as illegitimate children are concerned, Article 176 of the Family Code states that illegitimate children shall be under the parental authority of their mother". (Renalyn A. Masbate et al v. Ricky James Relucio, G.R. No. 235498, 30 July 2018).
It is readily observable that laws relative to support and custody heavily favor the mother/ wife. And when used in bad faith, they can become unconscionable.
This is what your columnist is referring to as weaponizing the children. The term "weaponizing" means "to adapt for use as a weapon of war" (Merriam-Webster's Collegiate Dictionary, Eleventh Edition). When the children are being utilized as a "weapon of war" to get back at their father or to get what is wanted from him then that is a revolution that will shake family foundations to the core.
"A child who is allowed to be disrespectful to his (her) parents will not have true respect for anyone" according to Billy Graham. This echoes what the law enjoins that "Children shall always observe respect and reverence towards their parents and are obliged to obey them as the children are under parental authority (2nd para., Article 211, Family Code). 
Children therefore should never be used as weapons. For as Dostoyevsky reminds in The Brothers Karamazov, "Love children especially, for they too are sinless like the angels; they live to soften and purify our hearts and, as it were, to guide us".
(The author is the senior partner of ET Reyes III & Associates– a law firm based in Iloilo City. He is a litigation attorney, a law professor and a book author. His website is etriiilaw.com).