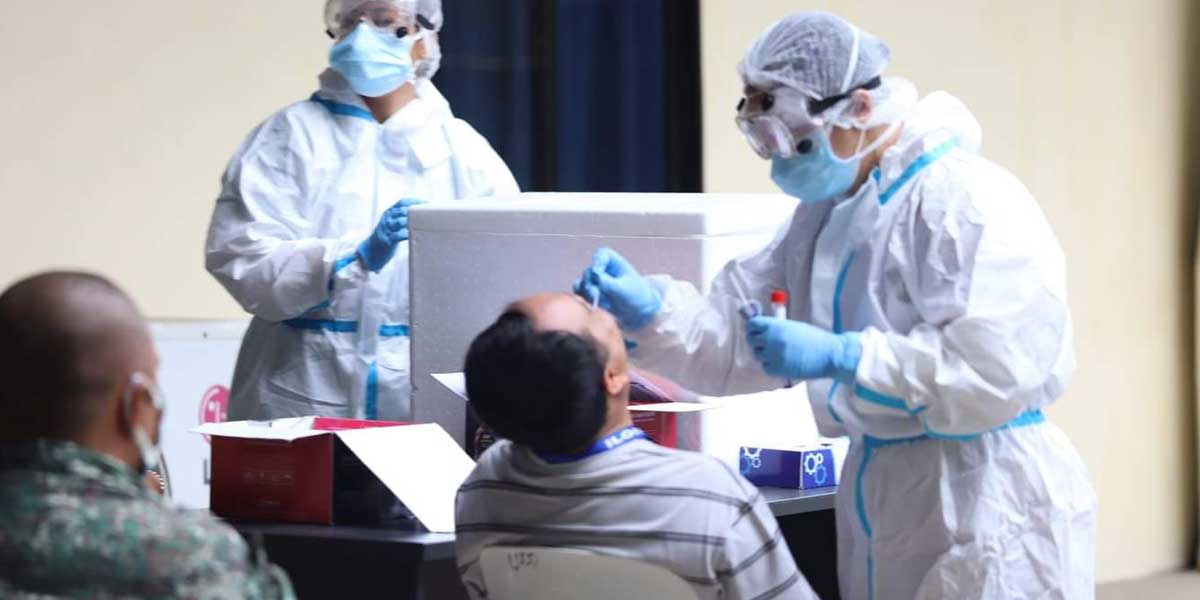 By Joseph B.A. Marzan 
Coronavirus disease 2019 (COVID-19) cases continue to surge in Iloilo City heading into the second week of the New Year, with 104 new cases confirmed by the City Epidemiological Surveillance Unit (CESU) over the weekend.
A CESU report released on Saturday, Jan 8, 2022 indicated that the city logged 46 new cases on Friday, Jan 7, which include 22 index cases, 23 local transmissions, and 1 posthumous confirmation.
The index cases include 6 each in Jaro and Molo districts, 5 in Mandurriao, 3 in La Paz, and 1 each in Arevalo and City Proper.
The local transmissions include 8 in Mandurriao, 6 in Jaro, 4 in Arevalo, 2 in Molo, and 1 each in La Paz and City Proper.
The new death logged on Friday was a 69-year-old male from Muelle Loney who died on arrival in a hospital, and was confirmed to have COVID-19 on Thursday, Jan 6.
Other confirmed cases logged by the CESU on Friday include 5 who were positive via repeat RT-PCR testing, 51 Iloilo province residents, 4 reinfections, 2 Returning Overseas Filipinos, 13 returning residents, and 4 Authorized Persons Outside of Residence (APOR).
Meanwhile, the CESU also reported that the city logged 58 cases anew on Saturday, Jan 8, composed of 18 index cases and 40 local transmissions.
Index cases for Saturday's log include 6 from Jaro, 5 from La Paz, 2 each from Arevalo and City Proper, and 1 each from Lapuz, Mandurriao, and Molo, while the local transmissions include 18 from Jaro, 12 from Mandurriao, 4 from City Proper, and 3 each from La Paz and Molo.
Also confirmed on Saturday were 7 cases who remain positive from repeat swab tests, 42 Iloilo province residents, 10 APORs, and 13 returning residents.
Despite the surge, Iloilo City Mayor Jerry Treñas shot down insinuations that the city will be locked down, particularly that it was placed under the stricter Alert Level 3 until Jan 15.
But on Sunday, Treñas asked buskers or musicians performing in malls to stop while the city is under Alert Level 3.
He also reminded everyone that the city government continues to give free RT-PCR tests to all symptomatic and close contact residents of Iloilo City at a cheaper rate.
"This will ensure that we will be able to isolate all positive residents of the city. Furthermore, the charges for the RT-PCR tests have been lowered to only P800.00, perhaps the lowest in the country," he added.
ANTIQUE SURGE
A similar surge is also occurring in Antique province.
From consistent single-digit to zero new COVID-19 cases daily in December 2021, the province of Antique is again experiencing a spike in cases this January 2022.
Based on the data from the Antique Provincial Health Office, active COVID-19 cases in the province of Antique climbed to 84.
On Sunday, Jan 9, the province logged 17 new cases.
The town of San Jose has the most number of active cases at 48 followed by Sibalom with seven active cases, Bugasong and Laua-an with five active cases, Belison (4), and Patnonngon (3). Other towns logged one to two active cases.
In an interview with Radyo Pilipinas Iloilo on Sunday, Antique Governor Rhodora Cadiao confirmed that there is indeed a spike of COVID-19 cases in the province.
"Abi namon natapos na ang problema kay nagcelebrate na kita Christmas, and New Year. But, eto naman, bag-o naman nga challenges nakaharap namon sa Antique," she said.
Cadiao attributed the sudden spike of COVID-19 cases in Antique from family gatherings and reunions held last Holiday season. The governor added that the virus may have been transmitted by those who traveled outside the province.
"It stemmed from family get-togethers, nag-alabot ang OFWs kag indi mo na man-an diin gahalin because everybody has attended a family reunion, birthday, the others, nagcelebrate pagabot sang ila mga bugto halin abroad," she said.
Antique remains under Alert Level 2.
Amid the threats of the Omicron variant, Cadiao said entry of persons in the province coming from areas in Panay remains unhampered.
However, starting January 10, 2021, inbound travelers from outside Panay Island will be required to secure a negative RT-PCR result regardless of vaccination status and a notice of coordination or letter of acceptance.
Cadiao said they have already met with the provincial Inter-Agency Task Force (IATF) last Saturday to prepare for the threats of the Omicron variant.
According to Cadiao, she ordered the mayors to allot funds for the purchase of medicines. She also ordered the opening of the Angel Salazar Memorial Hospital in preparation for the surge of COVID-19 cases.
The governor assured Antiqueños that the province is very much prepared to manage COVID-19 cases.
"After our experience of almost two years naigo sang pandemic, we learned so much. We are very much prepared. We know already what to do," she said. (DG)