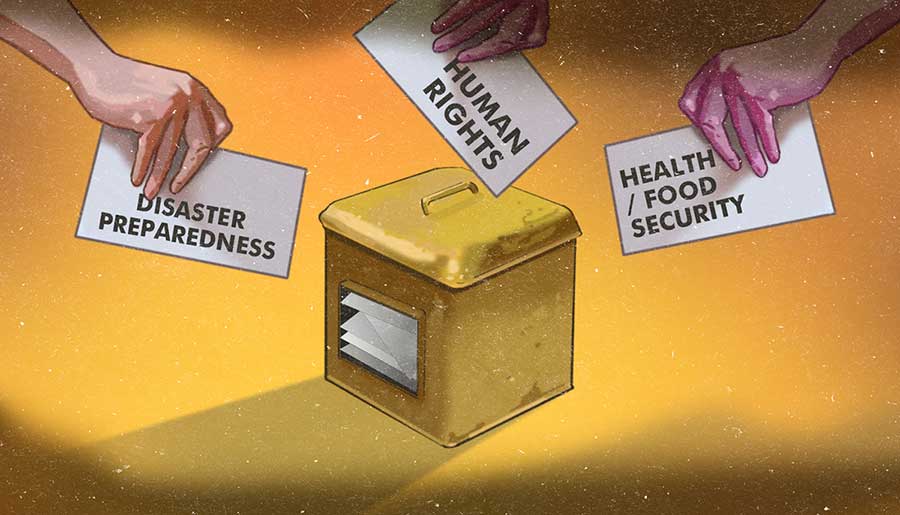 By Cherry Salazar
The barangay is the smallest political unit in the Philippines. But for Filipinos, the barangay represents more than just a government identity. It is also the smallest territorial unit that embodies a community.
These two "faces" of the barangay – being both a local government and a community – give it a distinct significance in Philippine democracy, said Michael Henry Yusingco, a lawyer and fellow of the Ateneo School of Government.
"Because of this characteristic, the barangay is supposed to be a community parliament… It is a venue or forum for regular people to engage in governance," he told the Philippine Center for Investigative Journalism (PCIJ) in an interview.
The Sangguniang Barangay (barangay council) is headed by a punong barangay (barangay captain). Its members are seven kagawads (councilors) and the chairman of the Sangguniang Kabataan (youth council).
By law, village elections are held every three years. During the Duterte administration, these were postponed a number of times, somewhat rendering the officials irrelevant.
The elections originally set for May 2016 were suspended twice before these finally pushed through in May 2018. That was the last time Filipinos cast their vote for barangay officials. These were to be held next in May 2020, but President Rodrigo Duterte signed a law putting these off for December 2022.
His successor, President Ferdinand Marcos Jr., also signed a law postponing these from December 2022 to October 2023. The Supreme Court ruled that this was unconstitutional, but allowed the vote to proceed this year.
Barangay officials elected in 2018 have been serving their terms of office for over five years now, or nearly as long as the President's.
The Local Government Code defines the role of barangays as the primary implementing unit of government programs, as well as a forum where people's collective views are heard and disputes are sorted out.
Yusingco said village officials should facilitate discussions with their constituents, and relay the latter's sentiments to the higher-ups.
The majority of the 42,027 barangays, however, "do not function that way'' because barangay officials "have been used as part of the machinery of political dynasties," he said.
"Instead of representing the community in the higher levels of government, they represent higher-ups in the community. The reverse is happening," observed Yusingco, a legislative and policy consultant based in Australia.
Only at the barangay level are officials and residents interacting directly, face-to-face, and regularly.
This dynamic, according to Yusingco, has driven national agencies to use barangay officials as "foot soldiers," such as for the imposition of lockdowns and distribution of ayuda (aid) at the height of the COVID-19 pandemic.
While these were done "out of necessity," Yusingco said using the barangay as an "agent of government… goes against its local autonomy."
But "autonomy does not equate to independence," said Maria Ela Atienza, political science professor at the University of the Philippines.
"Barangays, like other local governments, are supposed to implement policies from the national government because we still have a unitary system," Atienza told PCIJ.
The Local Government Code devolved national government responsibilities such as services to local government units, including barangays.
"The idea here is that aside from implementing national programs, planning should actually emanate from the grassroots, from bottom up," Atienza said.
PCIJ spoke with academics and advocates who identified the barangay's biggest responsibilities. It must be stressed, however, that every barangay has unique contexts and needs. PCIJ hopes this list can serve as a guide for voters ahead of the barangay elections.
Protecting vulnerable sectors
Championing the interests of vulnerable sectors should top the list of barangays' responsibilities. This includes enforcing ordinances to protect women and children from violence, Atienza said.
For her part, Nymia Pimentel-Simbulan, chair of the Philippine Alliance of Human Rights Advocates (Pahra), pointed out that cases of domestic abuse can be detected and prevented at the barangay where people know each other on a more personal level.
"Minsan 'yung barangay captain, alam naman niya na nabubugbog 'yung kanyang kapitbahay (Sometimes a barangay captain knows that his/her neighbor is being beaten up)… yet they do not do anything about it," Simbulan said. "The common justification is that it is a family concern. It's something private to the couple."
Child abuse and child labor can be monitored and curtailed within the community, she said.
"If there is a program at the barangay that monitors how (computer) shops are managed, how these shops are utilized by the youth, that could be one way of addressing the issue of online sexual abuse," Simbulan told PCIJ.
The Philippines ranks second worldwide in online sexual abuse and exploitation of children (OSAEC), according to the Cybercrime Investigation and Coordinating Center (CICC), an attached agency of the Department of Information and Communications Technology.
Programs benefiting the elderly and persons with disabilities (PWDs), as well as the indigenous peoples (IPs) should also rank high in barangays' priorities, Simbulan said.
On top of delivering basic services, barangays must ensure that IPs are represented in decision-making processes, she added.
In proposed projects that will affect indigenous communities, the barangay is expected to organize consultative assemblies to enable IPs to decide whether to grant free, prior, and informed consent (FPIC).
The lack of consultation with IPs and failure to secure an FPIC from them have been a source of dispute in government or private sector-initiated projects in their ancestral domains.
It goes without saying that adequate services – such as day care centers for the young and feeding programs for malnourished children – should be available in the community, Atienza said.
"The rights we want to protect should be more visible and have more interventions at the barangay level," she said.
Peace and order
Atienza, former chair of the UP department of political science, also pointed out that peace and order can be easier addressed in the barangay.
Barangays should craft their development plan based not only on the needs of residents but on problems that disrupt peace such as petty crimes, she said.  "Who often gets involved in these crimes and why?"
In the Bangsamoro Autonomous Region in Muslim Mindanao (BARMM), barangays may address issues surrounding armed violence, said Yusingco. He stressed that every barangay has diverse needs and situations.
For Simbulan, the barangay, being "the structure nearest to the people," is also the first stop for residents seeking counsel, advice or assistance.
Former President Rodrigo Duterte's brutal war on drugs, however, forced many barangay officials to turn against their constituents.
"Napupuwersa 'yung mga barangay captain na mag-turn in ng mga listahan ng (Barangay captains are forced to turn in lists of) known drug personalities, which is a very loose term," said Joel Ariate, Jr., a researcher at the UP Third World Studies Center (TWSC). The UP TWSC runs "Dahas," which monitors reported drug-related killings in the Philippines.
"Nagkakaroon ng life and death power 'yung barangay captain at 'yung mga kasama niya," Ariate told PCIJ. (The barangay captain and other officials hold power over life and death.)
Ariate also pointed out a "watered down effect" created by the focus on barangays to provide solutions to national problems.
"Parang kasalanan ng barangay na may namatay sa kanila, pero hindi tinitingnan na kumusta naman 'yung kampanya ng national government." (Barangays are blamed for the killings, while the national government is not held accountable for the anti-drug campaign.)
Ariate also said that declaring barangays drug-free, while may be considered an accomplishment or political capital for barangays, further blurs the lines of accountability for the extrajudicial killings.
Fr. Flavie Villanueva, SVD, founder of Program Paghilom, also urged the public to "be discerning of the past" performance of barangay officials when choosing candidates for the upcoming elections.
"Kung maayos ang barangay, ito ay may maaari nang turing ng isang bahay kung saan nakakaramdam ang tao ng kaligtasan, kapayapaan, patuloy na pag-aaral, at paglago para sa kanyang kinabukasan," Villanueva said. (If the barangay is functioning well, it can be seen as a place where people find safety, peace, continuous learning, and progress.)
"Sila dapat ay nilalapitan kapag may panganib. Ngayon ay tinataguan at pinagmumulan pa ng trauma," he said. (They should be approached in times of danger, but now they are avoided and seen as a source of trauma.)
Paghilom is a Church-based support group that helps widows, orphans, and families of drug war victims.
Environment and climate resilience
Clean-up and sanitation drives are good environmental practices that ensure the protection and security of barangay residents, Atienza said.
These help prevent bigger risks like flooding and disaster preparedness, she said. "Kung maayos ang drainage, kung maayos ang pagtatapon ng basura, hindi magbabaha." (If drainage systems are in good condition, if waste is managed properly, there will be no flooding.)
"If you link simple environmental issues and clean-up with disaster management and climate change issues, then you're already starting education, civic training, community and citizen participation," she said.
Ateneo de Manila University sociology professor Emma Porio also pointed out that the barangay is the "first stop" for infrastructure permits.
Barangays can reject projects that would be built along fault lines or hazardous areas, have an impact on the environment and community negatively, or go against their local plans, said Porio.
However, most development plans are carried out only for the sake of compliance, she told PCIJ.
She added that many barangays "are not as empowered as we want them to be because they cannot resist the private sector and other pressures."
Earlier this year, PCIJ reported that a barangay captain in Batangas City, where there is a boom influx in gas projects, also reports for work in a power plant. A political science lecturer said this was a "direct conflict of interest."
Health
Another area that barangays can prioritize is primary health care, with focus on preventing both common diseases and epidemics, Atienza told PCIJ.
"The last pandemic saw how weak primary and preventive health services are because the focus is on the more expensive, curative aspect like hospital care," she said.
The UP professor said developing healthier communities and "making hospitals the last resort" would be cheaper and better in the long run.
Meanwhile, reflecting on his personal experiences in their community, Ariate said the pandemic highlighted the crucial role of the barangay in providing basic services.
"Ang biruan ng mga tao ngayon… panahon ng paniningil," said Ariate. "Maaalala kung ilang kilong bigas at sardinas, kung paano ini-impose ang quarantine." (People joke… this is the time of collecting. We'll remember how many kilos of rice and cans of sardines [were distributed], how the quarantine was imposed.)
Aside from these, barangays also monitored infected residents and their households, limited exposure to patients, trafficked the movement of people and goods, and rolled out vaccines.
"It's important to look at how barangay councils delivered (these services) during the pandemic," Ariate said.
Human rights
The Commission on Human Rights in 1994 created the Barangay Human Rights Action Center (BHRAC). The program is supposed to bring human rights information and protection to the grassroots.
However, nearly three decades since it was implemented, not all provinces and barangays in the country have established BHRACs.
As well, many among those with BHRACs "exist only in name," Pahra's Simbulan told PCIJ.
Aside from human rights education work, BHRACs also act as a "complaint referral, especially in far-flung barangays na ang layo sa structures if people would like to seek redress for violations of rights," she said.
Simbulan lamented that the project has not been taken seriously by local government officials. She said BHRACs are not often provided with sufficient budget, and the assignment of Barangay Human Rights Action Officers was made only for compliance.
Aside from strengthening BHRACs, Simbulan also encouraged barangays to use a rights-based approach and be more transparent in their operations.
"(People) should be provided with an opportunity to raise questions to scrutinize whatever plans are formulated at the level of the barangay, including the existing budget, budget allocation, and spending," she said.
For Yusingco, civic participation in the barangay is a microcosm of the national government.
"The barangay is a lifeline to our democracy," he said. "If we forget what it's for, which is for us to engage in governance, then, our democracy will die."