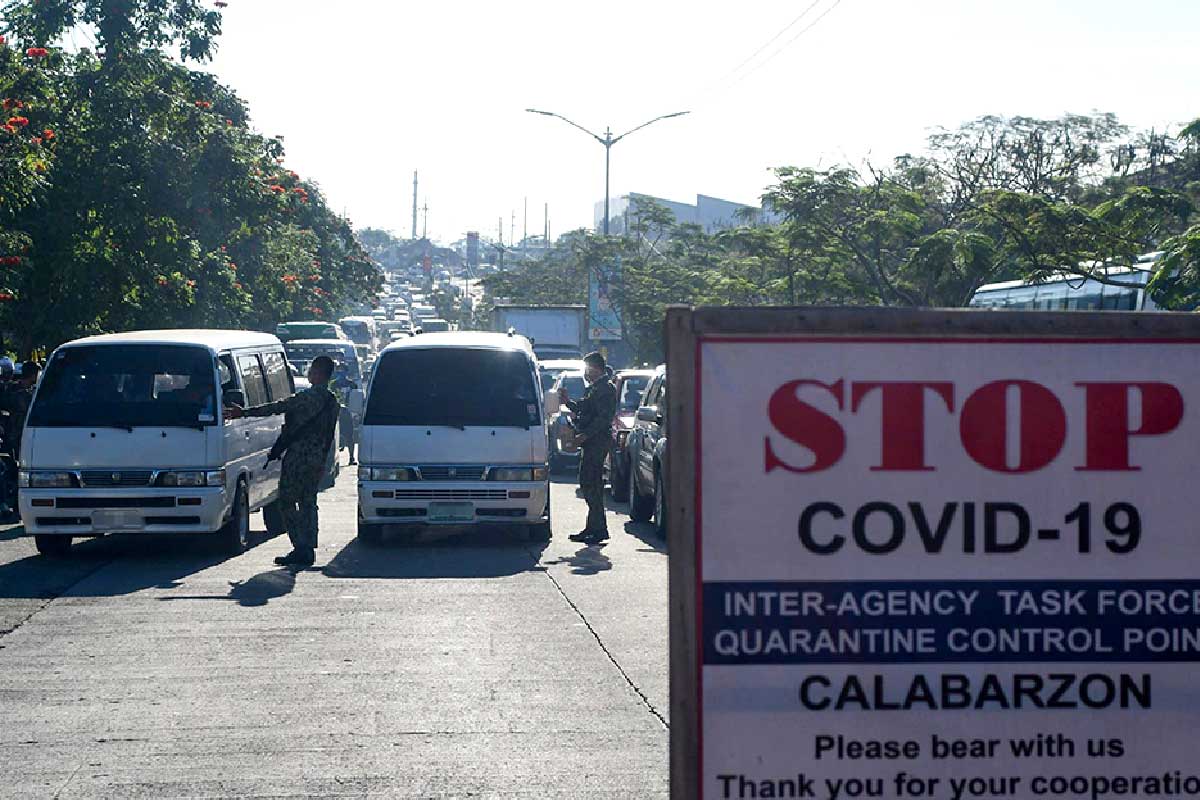 By Joseph B.A. Marzan
The national Inter-Agency Task Force for the Management of Emerging Infectious Diseases (IATF-MEID) on March 27, 2021 formally announced the return of the National Capital Region and the provinces of Bulacan, Cavite, Laguna, and Rizal, or collectively known as "NCR plus", to an Enhanced Community Quarantine (ECQ), just more than one year after it was first declared around the country.
This was in response to the surge in confirmed cases of the coronavirus disease 2019 (COVID-19) in the said areas, which were also placed under a "travel bubble" on March 20 prior to the current declaration.
As of March 30, the Department of Health's (DOH) COVID-19 Tracker recorded 6,625 new COVID-19 cases from these areas alone, or 71.27 percent of the total number of newly confirmed cases nationwide (9,296).
DOH data as of March 30 also indicated that "NCR plus" alone has had a total of 443,838 confirmed COVID-19 cases, or 59.88 percent of the total number of confirmed COVID-19 cases in the country (741,181).
The breakdown of cases from these areas include 92,469 active cases, 344,758 recoveries, and 6,611 deaths.
Since the first reports by Rappler on recommendations by the IATF-MEID last week, people have lined up at essential establishments such as grocery stores once again, in fear of not having anything to sustain themselves at this time.
Daily Guardian talked to several workers from the affected areas on how they are viewing this current quarantine situation.
Almost all of those interviewed for this story had a common observation: that the current ECQ was worse than the last.
Chris, who currently works from their home in Cainta, Rizal for a company based in Makati City, said that he did not see the need to declare an ECQ over the bubble at this point in time.
He inferred that the quarantine pass schemes implemented last year indeed helped curb the movement of people, apart from the greater material support through financial assistance and in-kind relief.
When the first ECQ was announced, he started working at home, but resigned and has since found a new job amid the pandemic where he is now fully working remotely.
"The first [ECQ] made more sense because other countries were doing it too, everyone had to go through the lockdown. It seemed like the right thing to do then, because the whole world was facing it. This one is just the result of an incompetent government,"
Maria, an accountant in Makati City who also studies at a law school in Taguig City, has not gone home to her family in Quezon City due to her fear of infecting her family.
Many in her office had contracted COVID-19, and as a more senior employee, she was part of the skeletal workforce which needed to show up physically.
Since last year's ECQ, she had moved to another place because she could only walk to work due to the lack of transportation, and this time she did not see the need to stock up on food products.
Her observation, however, was that last year was better because now, people didn't mind the current situation due to "pandemic fatigue".
"Last year was better because we didn't know much [about COVID-19], but now we have knowledge and there's a little bit of hope because of COVID-19 vaccines despite the emergence of variants. It hasn't been much easier, but that's because there's been fatigue, you know?" Maria said in a phone interview.
She added that the Philippine government also had a "more lax" attitude this time compared to last year, saying that they may only be relying on external aid instead of our own resources, citing vaccine donations from China and the World Health Organization (WHO).
She also cited the timing of the announcement, as it was along "petsa de peligro", or the time where people's financial resources are nearly depleted, just waiting for the next rounds of salary to come in by the end of the month.
"It may seem better because we have a vaccine, but I feel that the sense of urgency was better before because the government officials themselves were scared, but now they are the ones who are more confident because it seems that to them, they're able to secure their own safety. We can't say that it was more effective last year, but the rate of infection was lower last year and now they are just relying on external help," she added.
Last year's ECQ has already trained Ilongga nurse Julie to walk from her house in Makati City to a private hospital in Mandaluyong City where she had been working for about 4 years.
As a medical frontliner, she has experienced going through great circumstances, and currently, their hospital has been overwhelmed at full capacity for COVID-19.
Many of the medical staff in their hospital had been staying at the Emergency Rooms instead of going home as they were constantly on alert as cases may come in along with other patients.
During the first months of the first ECQ in Metro Manila, she had been assigned to do swab testing, and currently she is part of their hospital's vaccination team, administering shots to her fellow frontliners.
She said that considering the shifts in community quarantines in Metro Manila, nothing had changed, and lockdowns have helped a little in flattening the curve.
She expressed doubt that the COVID-19 situation will change, citing the lack of support to allow people to follow minimum health standards, and the attitude of the government not implementing minimum health standards for themselves.
"Right now, the situation with COVID-19 has become worse.  Personally, I doubt there would be drastic changes to our cases, with the declaration of the current ECQ because people are not following minimum health standards, and the current measures declared, ECQ was tighter last year compared to right now," Julie told Daily Guardian via phone.
All of them have recognized their privilege of being able to work at this time, having the ability to secure income amid the crisis created by the pandemic, and shared their feelings regarding those who had been economically affected.
Chris said that while he had no problems with his income, he could not say the same for his father, whose job involves conducting seminars and workshops.
"I am doing fine because I have an employer that is very understanding, in a way the quarantine doesn't affect my source of income, but it affected my dad's income because they had just started doing physical, face-to-face workshops again with the minimum health standards, and it's difficult because when it comes to webinars, it's hard to charge [fees] as much, and it's hard to get participants," said Chris.
Maria felt like she was in a "dystopian novel", noting the lack of presence of people in the streets, while also emphasizing those who had turned from having jobs to begging on the city streets.
"I feel like I'm in a dystopian novel where the streets are empty, and I also see the beggars on the street and they keep adding up. It's heartbreaking because I would see those begging on the streets, about my age, and it's noticeable that they're just newly affected because they're not used to this kind of living, still with good clothing and bags which had been torn. You get to wonder if their industry was affected, and whether or not I could be next," she said.
As of this writing, the ECQ in "NCR plus" is slated to last only until April 4, but the government expressed openness to the idea of extending it to April 18.