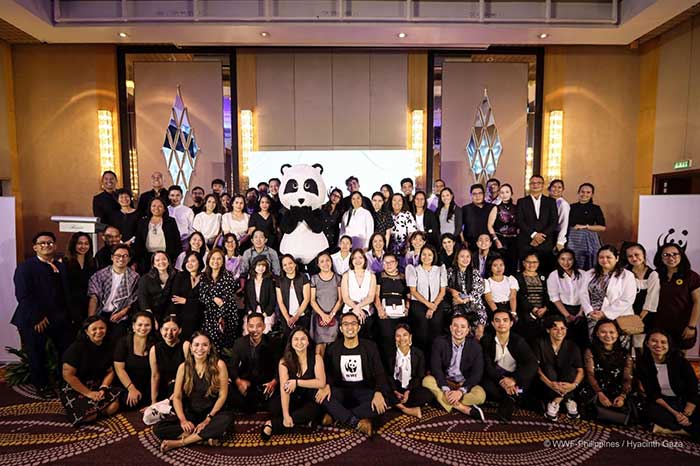 The World Wide Fund for Nature (WWF) Philippines awarded groups and individuals for their contributions to conserving nature well as project partners from the private sector who supported WWF's projects and advocacies.
WWF-Philippines held its annual Partners' Night at the Raffles Fairmont Hotel in Makati City on October 24, with the 2023 theme "Web of Change", underscoring the interdependent roles of every group and individual in the fight against climate change and biodiversity loss.
Guests, staff, and partners graced the occasion, with Department of Environment and Natural Resources Secretary Ma. Antonia Yulo-Loyzaga as the guest of honor.
"We all have a role to play in conservation as we are all tenants who temporarily live and share a common home," the Secretary said in a speech. "We should strengthen and reinforce these connections for positive change and be a voice for biodiversity conservation to encourage everyone to be part of simple and concrete solutions."
WWF-Philippines also introduced its newly elected Chairman of the Board of Trustees Atty. Anthony Charlemagne Yu.
"This year's partners' night celebrates our strength in diversity — of individuals who commit to changing the ending for the planet, of ideas and solutions, of actions and roles that we play in addressing the twin challenges of nature loss and climate change," said Yu in his remarks. "We thrive in diversity and in our intricate interconnectedness."
The highlight of the night was the awarding of the Force of Nature awards to groups and individuals whose contributions made a significant impact in promoting and scaling the advocacy of nature conservation and promoting sustainability.
The Force of Nature awardees included San Jose Sico Landfill Multipurpose Cooperative for their contributions to achieve a world without waste through collecting, recycling and composting waste from business establishments in Batangas City.
The Association of Young Environmental Journalists also received a Force of Nature award for helping spread the environmental communications advocacy, by training over a thousand youth and professionals on environmental journalism and communications.
Rodel Cadigal, President of United Ilijan Agricultural Workers for Sustainable Development in Negros Occidental, was the final Force of Nature awardee, and was honored for his involvement in addressing deforestation and agricultural land degradation issues as well as watershed management, water conservation and sustainable farming.
WWF-Philippines also honored BPI and BPI Foundation, Coca-Cola Foundation Philippines, Inc., Globe Telecom, HSBC, Mynt, and the National Grid Corporation of the Philippines for consistently supporting the organization's projects and advocacies.
"We hold all of these wins and these lessons together within this web of change. WWF means World Wide Fund for Nature, but among us pandas, we also say WWF means work with fun and work with friends. WWF Philippines is the organization it is today because of all you. We count you as our friends–people who make this work fun and fulfilling," said WWF-Philippines Executive Director Katherine Custodio.