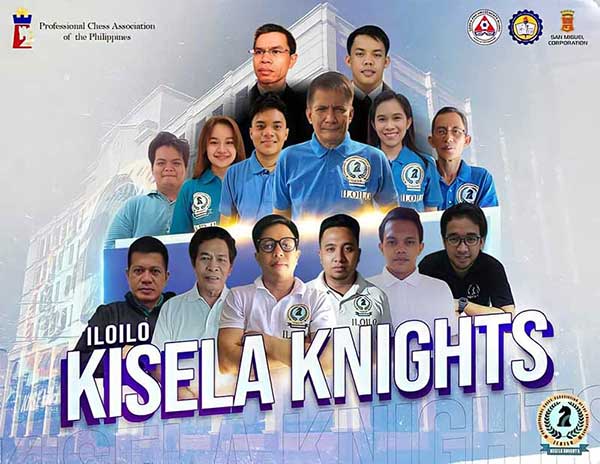 By Leobert Julian A. de la Peña
The Iloilo Kisela Knights replicated their hot start in their last championship season after notching their fifth straight win in the ongoing 2022 Professional Chess Association of the Philippines (PCAP) Wesley So Cup.
Fresh off back-to-back Day 2 wins against Davao and Zamboanga, the Kisela Knights overcame adversity and survived close contests with rivals Negros Kingsmen, 11.5-9.5; and Surigao, 13-8.
It was not an easy Day 3 outing for the defending PCAP champions after facing their first tightly contested back-to-back matches in the Wesley So Cup.
Iloilo had to pull off a comeback against Negros after trailing early in the first seven boards, 2.5-4.5, with GM Hovhannes Gabuzyan and GM Rogelio Antonio Jr. the only players for Iloilo to deliver a win.
But Kisela Knights finally regrouped and came back in the rapid category after outdueling Negros 9-5 to end up with a slim two-point margin of victory.
Karl Viktor Ochoa kicked off Iloilo's four-board winning streak together with WFM Cherry Ann Mejia, GM Antonio Jr., and NM Fritz Bryan Porras which became the turning point of the last seven boards.
Meanwhile, against Surigao, Iloilo had a scintillating start, immediately grabbing a 6-1 lead in the blitz category.
Just when the Kisela Knights thought it would be another walk in the park, the woodpushers from Surigao proved them wrong as they battled Iloilo in toe-to-toe against fashion in the last seven boards.
To prevent Surigao from reclaiming the lead, Iloilo's NM John Michael Silvederio and NM Rolly Parondo Jr. had two-straight clutch wins which tied the rapid category to 7-7 and sealed the close Day 3 sweep.