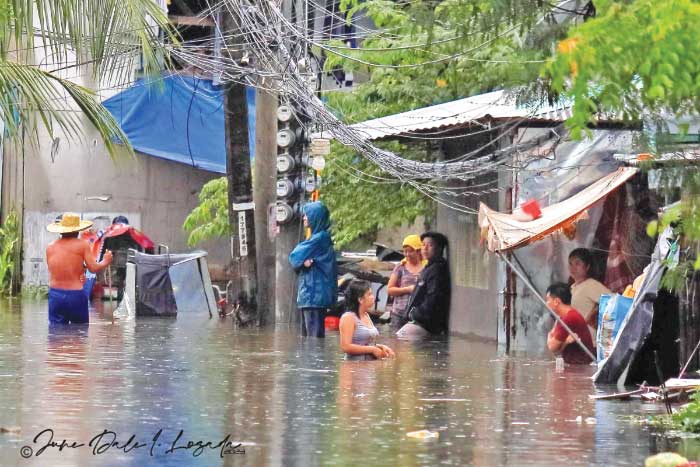 By Rjay Zuriaga Castor 
A total of 12,050 individuals were affected in Iloilo City following heavy rains brought by the southwest monsoon enhanced by Typhoon Goring on Tuesday.
The initial report from the CDRRMO showed that the evacuees came from the barangays in Jaro, Mandurriao, and Lapaz districts.
As of 2:20 p.m., the CDRRMO reported that 89 of the 180 barangays in the city flooded.
The Jaro district has the highest number of flooded barangays with 20, followed by Mandurriao with 16, City Proper with 13, Arevalo with 12, Molo with 10,  Lapaz with 10, and Lapuz with 5.
Floodwaters rose to as high as 3 to 4 feet in Barangays Desamparados in Jaro, SOOC in Arevalo, and Hibao-an Sur in the Mandurriao district.
According to the hazard monitoring data of CDRRMO, the water level at Dungon Creek and Tabuc Suba Jaro River has surged to a high level, while Fort San Pedro is witnessing waves oscillating between moderate to rough.
The CDRRMO advised residents of barangays situated near the creeks, rivers, and coastal areas to maintain vigilance of the possible hazards caused by the continuous rain.
The city government has also dispatched personnel from CDRRMO-Urban Search and Rescue to continue the rescue efforts and provide aid in relocating senior citizens and injured residents.
The City Health Office has provided medical support to the displaced families, particularly by giving an antibiotic doxycycline to a total of 1,826 individuals, as a preventive measure against leptospirosis,
For the relief efforts, the Philippine National Police Maritime unit has been utilizing rubber boats and flat boats to facilitate the transportation of vital supplies to evacuation centers.