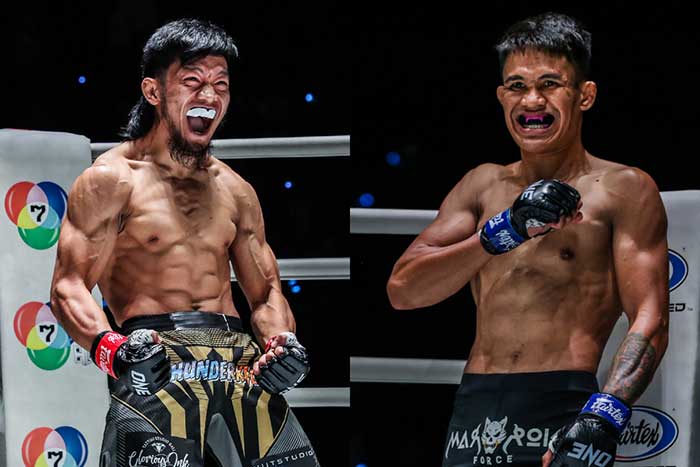 By Leobert Julian A. de la Peña
Lito Adiwang is ready to get another crack at Jeremy Miado in the upcoming ONE Fight Night 16 on November 4, 2023, to be held at the Lumpinee Boxing Stadium in Bangkok, Thailand.
Coming off a scintillating knockout victory over Indonesian opponent Adrian Mattheis last September 22, 2023, Adiwang is aiming for his second straight ONE victory but it will be a daunting task against his fellow Filipino Mixed Martial Artist.
Both fighters already squared off last year but the final results came to a disappointment after Adiwang injured his knee.
After the fight, Adiwang underwent a much-needed MMA hiatus to nurse his knee and came back stronger against Mattheis, knocking him out in just 23 seconds of the first round.
As Mattheis leaned in to throw a left hook, the clever Adiwang read the sequence very well and already prepared an incoming right punch counter that floored the Indonesian.
After that one punch that sent Mattheis to the canvas, Adiwang rushed in to throw heavy ground and pound strikes which forced the match referee to jump in and stop the fight, rewarding the Thunder Kid with a technical knockout victory.
It was a successful mission for Adiwang as he was seeking to end his two-fight losing streak last year and returned to the ONE stage with a bang.
The power was still there. Despite the long pause from MMA, Adiwang showed no signs of ring rust and showed flashes of his 2019 version where he tallied an impressive seven-fight winning streak.
On the other hand, Miado is looking to redeem himself after absorbing a loss at the hands of Mansur Malachiev last June 9, 2023.
Before receiving the defeat, Miado rode on a four-fight winning streak which started with back-to-back victories over Li Tao Miao.
After his wins against Miao, Miado took on Adiwang and got away with the win due to Adiwang's knee injury.
Can Adiwang get his revenge over Miado and put himself back in the picture for the championship contenders in his weight division?