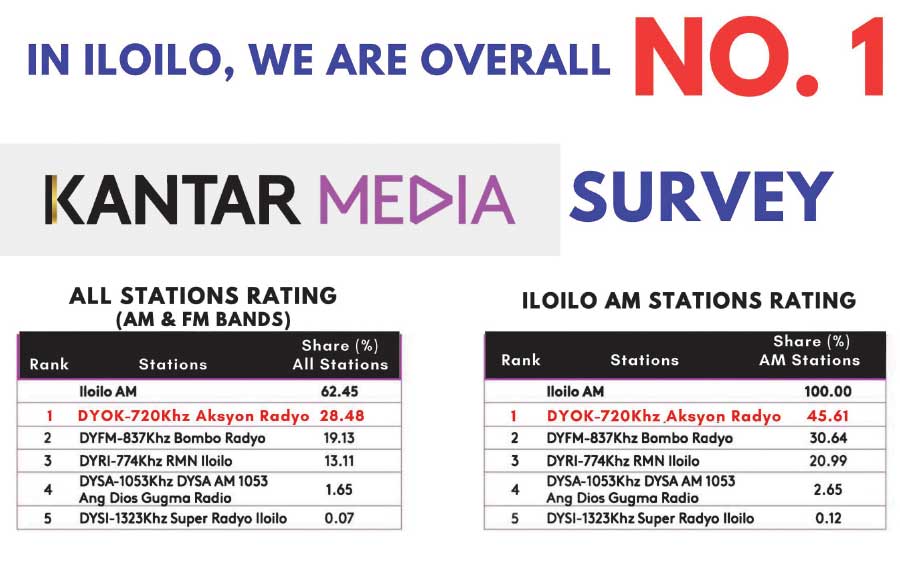 Aksyon Radyo Iloilo-DYOK 720 KHz has once again solidified its status as the undisputed number one radio station in Iloilo in both AM and FM bands combined based on the latest radio listenership survey.
The survey which was conducted on April 20-26, 2023 affirmed Aksyon Radyo Iloilo as the unparalleled leader in Iloilo radio with a 28.48% rating, followed by Bombo Radyo at number two with a 19.13% rating. On the third spot is RMN with 13.11%.  Ang Dios Gugma Radio took the fourth spot with 1.65% followed by DYSI Super Radyo with 0.07%.
The survey was conducted by Kantar Media, a market research firm specializing in broadcast media and is responsible for audience measurement of radio and TV ratings in the country.
Aksyon Radyo Iloilo, owned and operated by Manila Broadcasting Company (MBC), is also number one in all AM Stations garnering 45.61% rating. Bombo Radyo is at number 2 with 30.64% and RMN at number three with 20.99% rating.
Aksyon Radyo Iloilo management owes this resounding victory to a combination of factors especially the genuine dedication of its personnel and the station's unwavering commitment to excellence in programming. The community projects of the station which cultivated a deep sense of connection with its listeners also played a vital role in this latest feat. Station Manager John Paul Tia also expressed his gratitude to the loyal listeners who have been the driving force behind the station's achievement.
In response to the survey results, Aksyon Radyo Iloilo promises to continue to pursue excellence in programming and professionalize its personnel, set new standards in radio broadcasting and deliver the best radio experience possible to its on air and online audiences. It should also be noted that Aksyon Radyo Iloilo has an impressive reach in Facebook with more than 1.1 million followers, the highest in all radio station Facebook pages in Western Visayas.