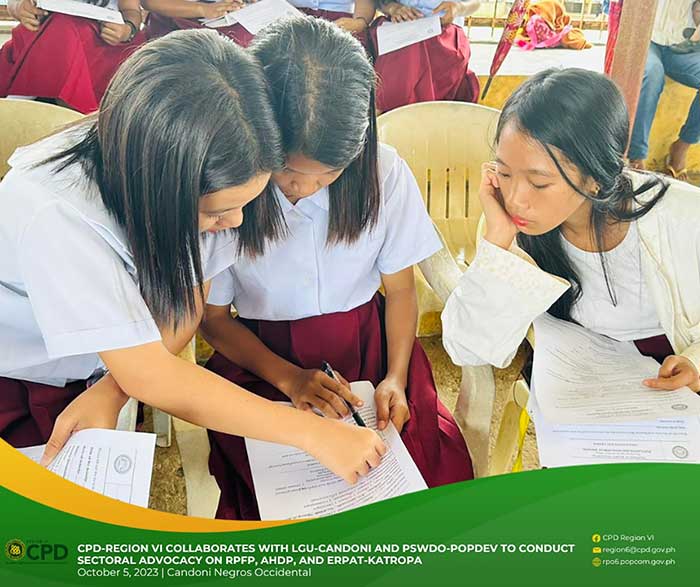 By Mariela Angella Oladive
Alarming rates of teenage pregnancy and mental health problems in Western Visayas sparked key discussions during the kick off of the 31st National Children's Month (NCM) celebration on November 8, 2023, at the Punta Villa Resort, Iloilo City.
Franz Hermocillas, regional coordinator of the Department of Social Welfare and Development-Regional Sub-Committee for the Welfare of Children (DSWD-RSCWC), said these twin issues need public attention.
"Based on our data, some areas are quite alarming. For example, in the case of teenage pregnancy, it is significantly high, so it should be given attention. Another concern is mental health issues, which have led to cases of suicide. This is also something that we should address in the current year and in the coming years," Hermocillas said.
He added that the figures are more alarming now compared to previous years due to the pandemic, and there are many new pressing concerns that need to be prioritized for the youth.
Data from a presentation on Survival Analysis of Children in Western Visayas presented by DSWD children focal Mariecar Labinghisa, revealed a significant increase in teenage pregnancies in 2022, rising to 7,703 from 6,293 in the previous year, with Negros Occidental experiencing the highest rate.
This surge was noted to align with the overall population increase in Negros, according to Dr. Martin Atienza, DOH 6 representative.
The Adolescent Birth Rate for girls aged 15-19 stands at 22.31%. Out of a total of 1,253,409 infants, 857 cases resulted in fetal deaths.
Notably in the region, the percentage of adolescent girls aged 10-14 who had four prenatal check-ups is at 0.13%, whereas for those aged 15-19, it is significantly higher at 70.50%.
SUICIDE CASES
Data on suicide incidence from the region indicated a disconcerting number of cases from January to July 2023, with 21 reported in the 3-16 age group and 102 cases in the young adults (17-30 years old) category.
Comparing these figures to previous years revealed a growing trend.
In 2022, there were 28 suicide cases reported for children (3-16 years old) and a significant 139 for young adults (17-30 years old).
In contrast, 2021 saw 14 suicide incidents for children and 130 for young adults, while in 2020, the figures stood at 39 for children and 132 for young adults.
Reportedly, the primary cause of suicide in Western Visayas is attributed to family problems. These statistics underscore the need for increased awareness and support to address these pressing social and health issues.
ADOLESCENT HEALTH FRIENDLY FACILITIES
In response to the rising teenage pregnancy issues, the Department of Health (DOH) mentioned the establishment of Adolescent Health Friendly facilities in every province and highly urbanized city in the region to provide health services, counseling, family planning, HIV screening, and mental health services to adolescents, thereby increasing awareness about teenage pregnancy.
For mental health, the DOH further discussed the Mental Connect helpline to provide better support, with efforts being made to ensure 24/7 operations.
National Anti-Poverty Commission-Children Basic Sector representative Josh Cezar Serilo emphasized the multifaceted nature of mental health issues.
Serilo underscored the importance of empowering the 14 basic sectors, including children, to identify and address issues affecting them and to ensure nationwide monitoring and evaluation of children's concerns.
The NCM kickoff event also highlighted the upcoming implementation of the Mahalin at Kalingain ang ating mga Bata (Makabata) helpline 1383 by the Department of Social Welfare and Development (DSWD) and the Regional Sub-Committee for the Welfare of Children (RSCWC).
Its primary objective is to establish a system that offers prompt response, monitoring, and feedback through various communication channels such as calls, emails, and social media, as discussed by Hermocillas.
The helpline is designed to protect children from any form of violation of their rights and targeted to be launched next year.
Government strategies like the National Action Plan for Children (NPAC) and National Framework Plans on Child Protection were also discussed, emphasizing the government's and various organizations' dedication to safeguarding children's rights in the region.
Under the theme, "Healthy, Nourished, Sheltered: Ensuring the right to life for all!" NCM's month-long celebration aimed to emphasize the crucial importance of providing children with access to available and quality healthcare. It served as a crucial platform for raising awareness and fostering cooperation to secure a brighter future for the children of the country.