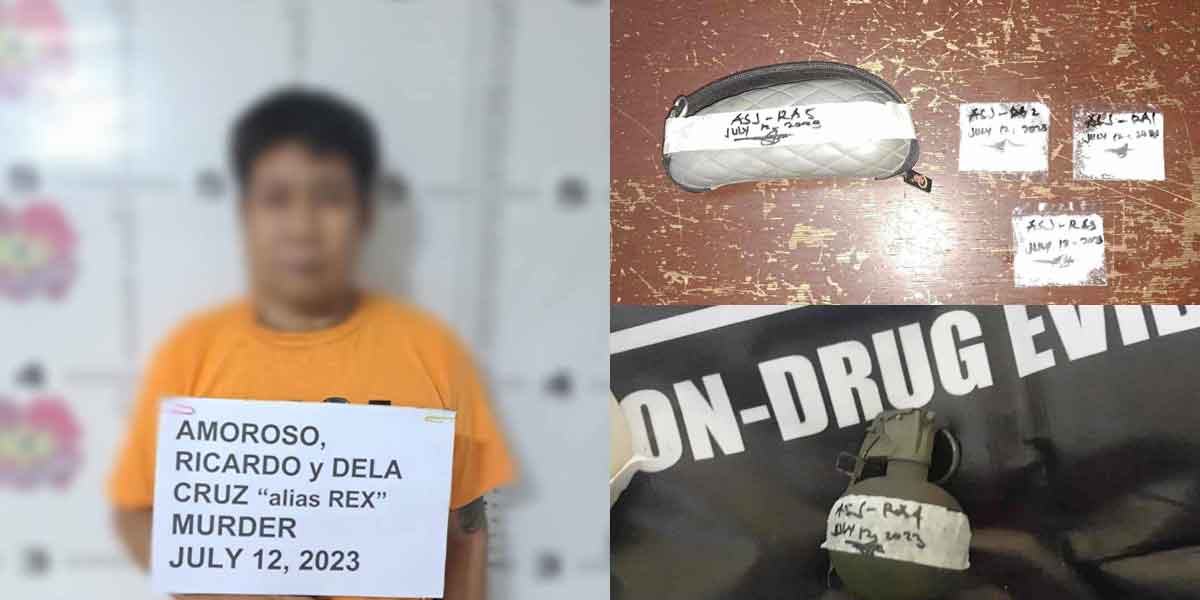 By Jennifer P. Rendon
Authorities nabbed the alleged gunman in the July 11, 2023 riding-in-tandem gun attack on a bar waiter in Molo, Iloilo City.
Ricardo "Rex" Amoroso, 58, was traced to his neighbor's house on Dela Rama Street, Barangay Zamora Milleza, City Proper district around 5:30 p.m. on July 12.
Members of the Iloilo City Police Station, Iloilo City Police Office-City Intelligence Unit (ICPO-CIU), Regional Police Drug Enforcement Unit (RPDEU)-6, and Special Weapons and Tactics (SWAT) team worked together in looking for Amoroso.
Lieutenant Colonel Antonio Benitez, Jr., CIU chief, said SWAT members had to destroy the door to the room where the suspect holed himself up.
Recovered from Amoroso were three sachets of suspected shabu, an M67 fragmentation grenade, and an eyeglass case.
Benitez said the seized drugs weighed around 15 grams and were valued at P102,000.
Benitez said they left several intelligence operatives to look out for Amoroso in the area believing that he was still in the area.
Police tagged Amoroso as the gunman who killed Alejandro Panes, Jr. on June 11 at Barangay North Fundidor, Molo.
Panes, a waiter at MO2 Restobar at Smallville Complex in Mandurriao, Iloilo City, succumbed to a gunshot wound on the lower left portion of his back.
POLICE ASSET?
Amoroso denied that the killing was his handiwork. He said he was into illegal drug use and carnapping but not murder.
Amoroso instead pointed to a certain Yogan and Intsik as the persons who may have killed Panes.
He claimed that a certain Rene Boy, his friend who is now incarcerated at the New Bilibid Prison, called him Monday.
Rene Boy allegedly told him to expect Yogan and Intsik to visit his house.
In the evening of the same day, the two arrived. They had a talk with Rene Boy over the phone.
Amoroso claimed to have overheard them about the plan to kill a certain Panes.
Rene Boy allegedly wanted Panes dead after the latter stood as a police asset that led to the arrest of the former's four underlings.
Amoroso could be referring to the drug bust operation at Barangay Poblacion South, Oton, Iloilo on July 6.
Among those arrested in that operation were Kate Nacita, 29; her brother John Nacita, 32, a beautician; and their half-brother Bonnie Nacita, 32, a tricycle driver.
Just like Panes, all of them are residents of Barangay Dulonan, Arevalo, Iloilo City.
Also arrested was Darry Lamson, 49, a taxi driver from Gustilo Dike, La Paz, Iloilo.
Members of the Regional Police Drug Enforcement Unit (RPDEU) 6, together with the Oton Municipal Police Station, seized drugs worth P850,000.
Amoroso said Yogan and Intsik left on the same night. On Tuesday morning, he heard the news of Panes' killing in Molo.
COHORTS
Amoroso was arrested several hours after his alleged cohorts were nabbed in the same village.
At around 4:10 a.m. on Wednesday, police arrested six suspects in a follow-up operation.
They were identified as Julius Inesoria, 58; his sister, Myla Inesoria, 52; and Julius's son, Rene John Inesoria, 20; Jurex Amoroso, 32. All are residents of the said place.
Also arrested were Jesus Gecaraya, 24, and Johnley Cadiz, 30, both residents of Bangga Inday, Zone 5, Barangay Calumpang, Molo, Iloilo City.
Police recovered from their possession two caliber .45 pistols and suspected shabu valued at P578,000.
Ricardo is Myla's live-in partner and Jurex's father. He allegedly shot Panes while backriding on the motorcycle driven by John Rey.
Julius is an e-bike driver while his son and Jurex are tricycle drivers.
Gecaraya works as a shoemaker while Cadiz is a construction worker.
Gecaraya and Jurex allegedly served as look-outs.
At 6:45 a.m., police also arrested John Mendez, 42, of Barangay Monica-Blumentritt, City Proper.
It appeared that Myla had prevented policemen from going inside their house to allow Ricardo to flee.
Ricardo and Mendez were able to escape from the area.
Police scoured the vicinity and later caught Mendez hiding along a row of fig trees at Zamora-dela Rama village.
Recovered from his possession were four sachets of suspected shabu, a caliber .9mm revolver with three ammunitions, and other non-drug items.
Mendez told police that Amoroso allegedly left the firearm in his possession before fleeing.