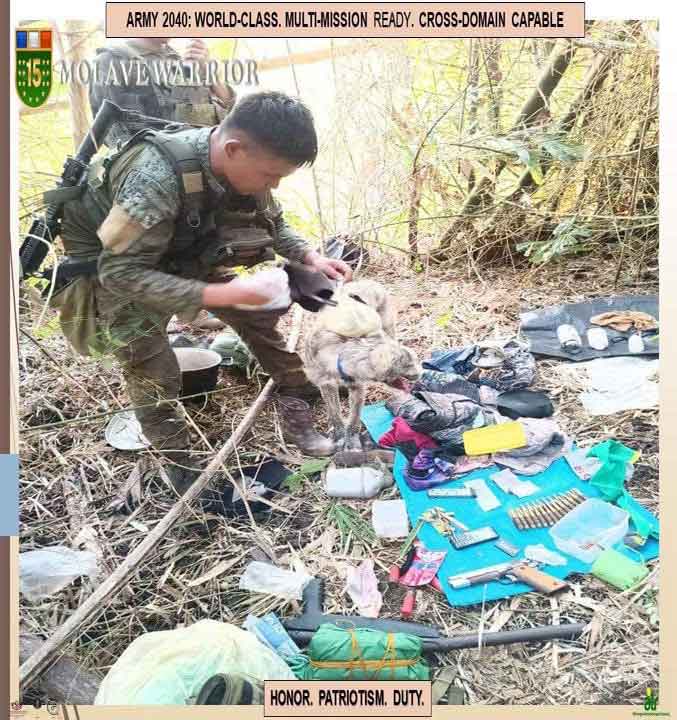 By Glazyl Y. Masculino
BACOLOD City – A temporary hideout of the New People's Army (NPA) was overrun by the Army's 15th Infantry Battalion (IB) following an armed clash at Sitio Tunap, Barangay San Jose, Sipalay City, Negros Occidental last Saturday.
According to the Army, military troopers traded shots with at least 15 unidentified armed persons believed to be the remaining members of Platoon 3 of the weakened South West Front (SWF) when they acted on information about the alleged presence of an armed group nearby that reportedly demanded food and conducted recruitment to recover their mass-based support.
Military troopers recovered a .45 caliber firearm with magazines and ammunition, a homemade shotgun with ammunition, a cellular phone, medical paraphernalia, other personal belongings, and subversive documents.
Also, military working dogs were employed to track the enemy withdrawal route to detect the presence of Anti-Personnel Mines (APM).
The encounter lasted for about 10 minutes which resulted in the evacuation of five families composed of 13 individuals at Sitio Patio-tio, Barangay Gil Montilla, Sipalay City, for their safety.
The City Social Worker Development Office (CSWDO) has already assisted and provided food assistance to the affected families before they return to their respective homes.
No casualties were reported on the government side.