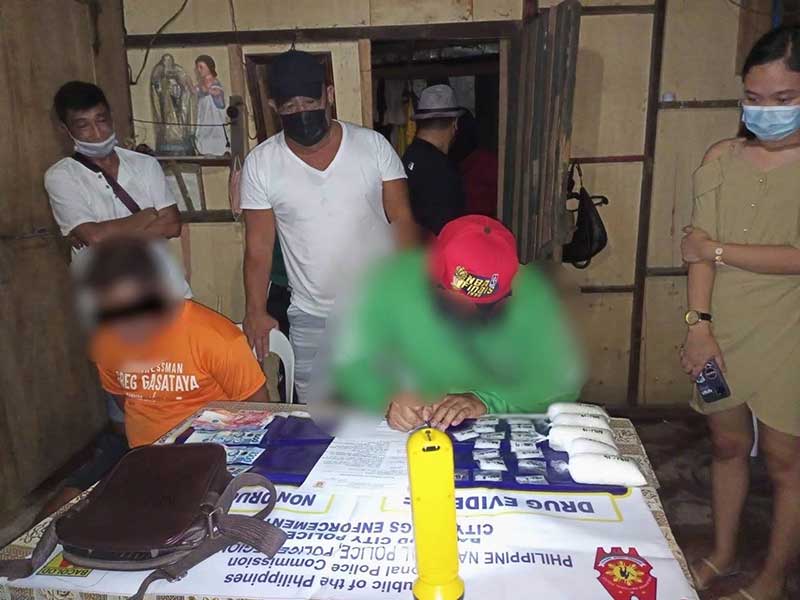 By Glazyl Masculino
BACOLOD CITY – Two buy-bust operations yielded P7,582,000 worth of suspected shabu in the past two days.
The first operation was conducted by the City Drug Enforcement Unit (CDEU) at Purok Kawayanan, Barangay Banago last Sunday which resulted in the confiscation of P6,868,000 worth of suspected shabu.
Police Lieutenant Joven Mogato, CDEU head, identified the subject as Napoleon Begasa III, 30, of Barangay Estefania here.
Mogato said that Begasa is considered a high value individual due to the recovery of more than one kilo of suspected shabu from his possession.
Mogato said it took them three weeks to monitor Begasa, who allegedly sold drugs to some food delivery riders.
"Dira na da siya pirmi gatinir sa Banago," Mogato said.
But he could not confirm yet if Begasa was renting the house or if he knew the house owner.
Police also recovered the P3,000 marked money and P1,200 personal cash.
Mogato said Begasa would probably transact with his clients at Barangay Banago.
"Daw runner lang na siya sang una, asta siguro na saligan naman siya," Mogato said, adding that Begasa could allegedly dispose 200 grams of suspected shabu worth P1.36 million every two weeks.
As to the source of the illegal drugs, Mogato said they are verifying the allegation of Begasa that the contraband was sourced from San Carlos City, Negros Occidental.
"May matawag lang sa iya for meetup, pero indi niya gid kilala ang source kuno," Mogato said.
In 2018, the province recorded its biggest drug haul of P72 million worth of suspected shabu in San Carlos City, which entered the shoreline of Negros island through a pump boat.
Begasa is detained at Police Station 3.
Early the following day, Raffy Cardeñas, 37, of Barangay Singcang-Airport here was also arrested in the said village.
Major Joery Puerto, head of Police Station 8, said that police confiscated 105 grams of suspected shabu worth P714,000 from Cardeñas.
Puerto said that Cardeñas was previously arrested for a drug offense and was released in September 2021 through plea bargain.
Cardeñas and his sibling were identified by some previously arrested drug suspects as their alleged source of illegal drugs here.
Puerto said it took them two months to monitor Cardeñas, who is considered a high value individual because of the huge volume of drug recovery.
Puerto said that Cardeñas also allegedly gets his drug supply in San Carlos City.
"Kaagahon ginakadto sa San Carlos daw," he added.
Puerto, however, said that Cardeñas and Begasa had no links, as they probably belong to different groups.
Both suspects have yet to be reached for comment.