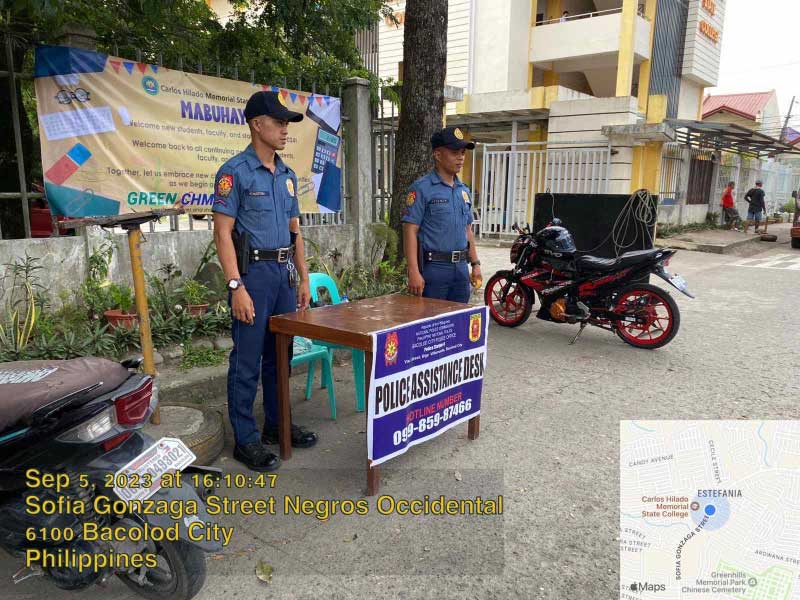 By Glazyl Y. Masculino
BACOLOD City – More police officers will be visible in the streets as the Bacolod City Police Office (BCPO) launched yesterday the Bacolod Police Assistance Desks (BPADs) in various areas here.
Police Colonel Noel Aliño, BCPO director, in a press briefing yesterday, said that 25 BPADs were put up in strategic areas such as public markets, schools, call center firms, hospitals, and other areas that are usually crowded.
Some of these areas are Araneta-Hernaez Streets, Bonifacio-Gonzaga Streets, Luzuriaga-Bonifacio Streets, 18th Lacson Street, Ramon Locsin Street, near Dunkin Donuts, Circumferential Road/Panasiatic, B.S. Aquino Drive Robinson Triangle, Lacson near Caltex Gasoline Station, Dawis Street, Rosario-Yulo Street, Corazon Locsin Montelibano Memorial Regional Hospital (CLMMRH), Puregold, San Agustin, Lopue's East, and Sofia Gonzaga in Barangay Estefania.
Aliño said that two personnel man the BPADs from 10 a.m. to 8 p.m., based on the crime mapping. But, he said that they are studying its possible retention during nighttime.
The BPADs manned by 50 personnel in total, as of this time, are supervised by Police Captain Peter John Ramos.
These personnel are rookie cops who just finished their Basic Internal Security Operations Course (Bisoc), according to Aliño.
"Tayo lang meron nito…sa Bacolod. Bakit kailangan pag may bisita lang mag lagay ng PADs? We will make this permanent all over the city. We will consider all Bacolodnons very important persons (VIPs)," Aliño said.
This is on top of the beat patrollers roaming around the streets to deter crimes, Aliño said. The BPADs personnel will be stationary as they act as emergency responders, and also complaint desks by passersby, he added.
"Tumulong ka muna, bago ka mag relax," Aliño said, as he stressed that police presence is significant to maintain peace and order in the city.