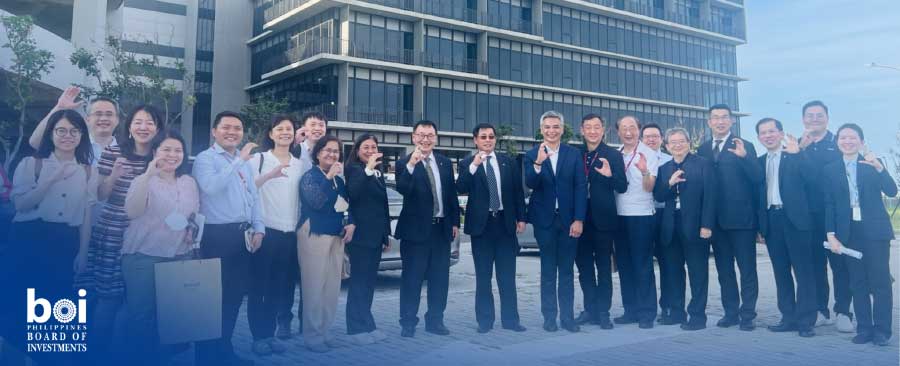 Harnessing Taiwan's global cold chain solutions to further develop the Philippine cold chain industry, the Board of Investments (BOI) led by Governor Marjorie O. Ramos-Samaniego and Director Raquel B. Echague of the Resource-Based Industries Service met with the Taiwan Cold Chain Association (TCCA), through its Chairman Freezer Lin, jointly with the Department of Commerce-Ministry of Economic Affairs and Industrial Technology Research Institute (ITRI) to discuss areas of collaboration on cold chain industry development on August 23-25, 2023.
Manila Economic and Cultural Office (MECO) thru Deputy Resident Representative Alice Q. Visperas welcomed the team facilitated by Philippine Trade and Investment Center (Taipei) Director for Commercial Affairs Anthony Rivera with the cooperation of Taipei Economic and Cultural Office in the Philippines (TECO).
Taiwan's advanced cold chain solutions and state-of-the-art supply chain systems coupled with its collaboration experiences with other economies put forth the forging of a memorandum of understanding for capacity building on cold chain solutions for Filipino personnel.
Other initially identified initiatives are sharing of best practices and the development of standards. Linking of Taiwanese cold chain investors with Filipino partners for possible investments in cold chain activities in the Philippines was also considered. This will facilitate realization of a more modern, greener, and sustainable cold chain industry in the Philippines.
The team met with the Chairmen of Evergreen International Storage and Transport Corporation and Evergreen Logistics Corporation, President of YES Liberal Logistics Corporation, Advantech Company, Ltd and RD&D Cold Logistics Company. TCCA also hosted the team at the 5th Taipei International Cold Chain Tech Exhibition at Nangang Exhibition Center, and their visits to member-companies' facilities showcasing end-to-end smart solutions to cold chain and logistics services such as environment sensing, artificial intelligence, robotics and internet of things (IoT).
Gov. Ramos-Samaniego highlighted to these companies that setting up their operations in the Philippines is very timely and strategic, considering recent liberalization under the Amended Public Service Act on cold chain activities. She also underscored the country's growing population, increasing urbanization, rising middle class, vibrant consumer market and growing e-commerce sector which makes the Philippines the best place to put up their business.
Dir. Echague added that these concerted efforts among key stakeholders from both economies are building blocks to successfully make the Philippines a hub for smart cold chain and logistics services in Asia by 2028.