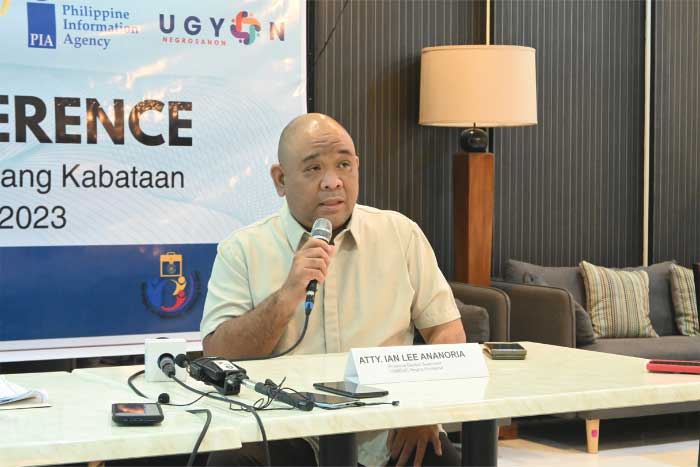 By Dolly Yasa
BACOLOD City – Negros Occidental Provincial Comelec supervisor Atty. Ian Lee Ananoria warned anew candidates in the slated Barangay and Sanggunian Kabataan elections (BSKE) against premature campaigning after the filing of candidacy ended Saturday, September 3, 2023.
He stressed that the official campaign period will start on October 19 until 28.
A total of 29,640 candidates filed their COCs in the province of Negros Occidental.
Ananoria said that the six-day COC filing period for the BSKE, which started August 28, was peaceful.
There are 662 seats up for grabs for the position of barangay captain, with 1,611 vying for that post.
Among the candidates, a total of 1,239 are males and 372 are females.
For barangay councilor, 4,634 seats are available with 15,612 aspirants having filed COCs.
Comelec records showed that of these candidates, a total of 11,097 are males, while 4,515 are females.
The position of Sangguniang Kabataan chairperson also has 1,882 aspirants, where 1,117 are males, while 765 are females.
A total of 10,535 individuals also filed their COCs as SK members, with 5,616 males and 4,919 females.
In Bacolod City six barangays have barangay captains running unopposed in the slated BSKE.
These are Barangays 7, 15, 24, 25, 32, and 36.
On the other hand, Barangays 24, 36, and 37 also have unopposed candidates for SK chairman while Barangay Mandalagan has eight aspirants for barangay captain.
An aspirant for barangay kagawad and another for SK kagawad have withdrawn their certificates of candidacy (COCs) for the BSKE according to the city Comelec office here.
Bacolod Election Officer Katrina Trinio-Caña said the 5-day filling of COC was peaceful as there were no major problems encountered.
The Commission on Elections is still finalizing the total number of candidates who have filed the COCs for the BSKE in Bacolod City.
The implementation of the Comelec gun ban for the BSKE started on August 28, while the campaign period is from October 19 to 28.
A liquor ban will also be implemented from Oct. 29 to 30.
The BSKE elections are scheduled for October 30, 2023.