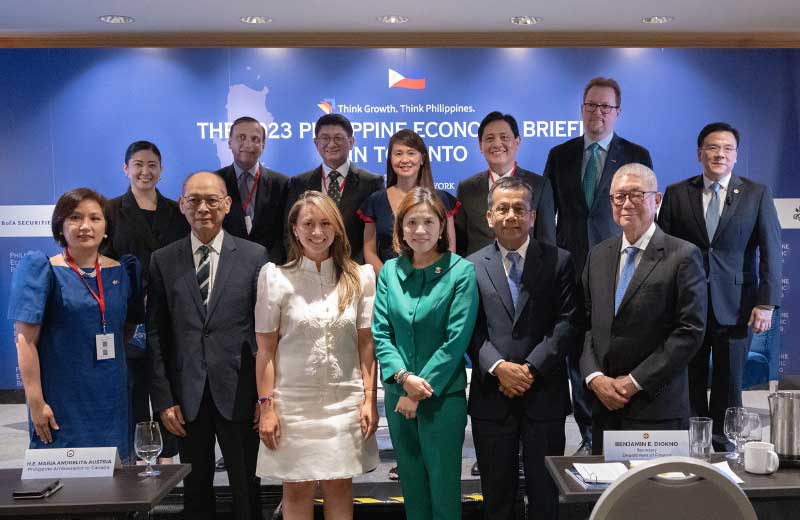 Bangko Sentral ng Pilipinas (BSP) Governor Eli M. Remolona, Jr. discussed price stability, post-pandemic economic recovery, and climate change at the first-ever Philippine Economic Briefing (PEB) in Toronto, Canada on 13 July 2023.
He said the central bank's flexible inflation-targeting framework mandates the BSP to be "structurally hawkish when it comes to inflation" and to focus mainly on price stability.
He highlighted the BSP's commitment to bringing inflation back to the government's two to four percent target range. "Our models tell us that we will be within target by the last quarter of this year," the central bank chief added.
The Governor also pointed out that the well-capitalized and highly liquid Philippine banking system has continued to finance productive economic activities that have helped the country recover from the impact of the COVID-19 pandemic.
Furthermore, he cited the BSP's commitment to supporting global efforts to slow climate change, as well as issuing a policy on the reporting of climate-related exposures by Philippine banks.
The BSP Governor joined Finance Secretary and Monetary Board Member Benjamin E. Diokno, Socioeconomic Planning Secretary Arsenio M. Balisacan, and Budget Secretary Amenah F. Pangandaman in discussing the state of the Philippine economy before an estimated group of 90 Canadian senior executives from various sectors including asset management, banking, mining, fintech and food industries.
Secretary Diokno underscored the country's strong macroeconomic fundamentals and sound fiscal management. "To complement this, we are pursuing structural reforms to accelerate investments and trade in the Philippines. We have opened our economy to greater foreign participation with Amendments to the Retail Trade Liberalization Act, Foreign Investments Act, and Public Service Act," he added.
For her part, Philippine Ambassador to Canada Maria Andrelita S. Austria cited the strong economic relations between the two countries. Canada is home to around one million Filipinos, who comprise a significant portion of its workforce.
The PEB in Toronto also featured a panel discussion on the private sector's views on the Philippine economic agenda and investment climate. The panelists included Manulife Philippines President and Chief Executive Officer (CEO) Rahul Hora, Canada-Association of Southeast Asian Nations (ASEAN) Business Council Executive Director Thi Be Nguyen, and Sun Life Philippines CEO and Country Head Benedicto Sison.
According to Sison and Hora, the country's resilient economy and conducive regulatory environment allowed Sun Life Philippines and Manulife Philippines to thrive and expand in the Philippines for over a century.
In her closing remarks, member of Parliament for Mississauga-Streetsville Rechie Valdez acknowledged "positive steps taken by both Canada and the Philippines in recent years," including the launch of Canada's Indo-Pacific Strategy and opening of a new Indo-Pacific Agriculture and Agri Food Office to be located in Manila.
Other speakers in the PEB included UBS Securities Canada Managing Director Alain Auclair, Export Development Canada Corporate and International Senior Vice-President Sven List, and Citi Head of Financial Institutions Group and Public Sector Canada Gaurav Marwaha.
The event was jointly organized by the BSP-Investor Relations Group, Department of Finance, BofA Securities, Canada-ASEAN Business Council, Embassy of Canada in the Philippines, Citi, Deutsche Bank, Goldman Sachs, HSBC, Manulife, Morgan Stanley, Standard Chartered Bank, Sun Life, UBS, and the Philippine Embassy in Canada.