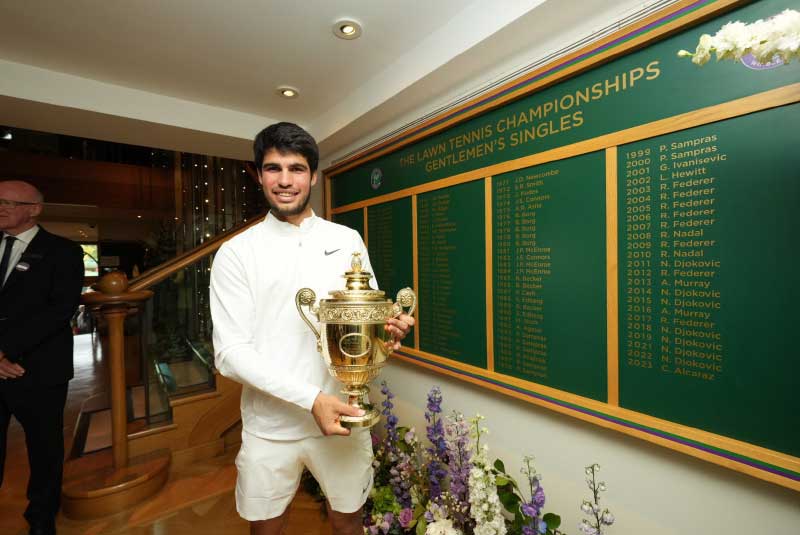 By Leobert Julian A. de la Peña
Carlos Alcaraz is ready for the daunting task of clinching two straight Grand Slam tennis championship titles once he returns to the hard court on August 30, 2023, when the US Open kicks off.
Fresh off a scintillating performance during the 2023 Wimbledon after ending Novak Djokovic's four-year reign, Alcaraz will now be embracing a whole new level of expectations as the world's no.1 male tennis player.
Alcaraz will be opening his US Open title bid against Dominik Koepfer and is seeking to put on an early statement win to advance to the second round.
The young Spanish sensation is currently on a hot streak of undefeated first-round appearances and he is locked in to extend that feat in the US Open.
Despite a disappointing five-set loss at the hands of Djokovic during the grand finals of the Cincinnati Masters two weeks ago, Alcaraz said that his level of confidence hasn't changed heading into the Grand Slam event.
Standing Alcaraz's way is the German Koepfer who was the former ATP world no. 50-ranked male tennis player.
Also adept in playing the doubles match compared to Alcaraz, the German will look to bring the match inside the net area to neutralize the Spanish's groundstroke efficiency.
Koepfer has a current winning percentage of 50% on the hard court, the surface the US Open uses in their Grand Slam festivity.
On the other hand, Alcaraz has been on a hot streak and has defeated several big names in the sport since taking the Grand Slam scene last year.
Although he failed to win this year's French Open when he was hobbled by cramps midway through his semifinal clash with Djokovic, Alcaraz has been steady and is in his best shape since taking over in Wimbledon.
Since turning pro last 2018, Alcaraz now holds an impressive ATP record of 53 wins and six losses with six titles under his belt.