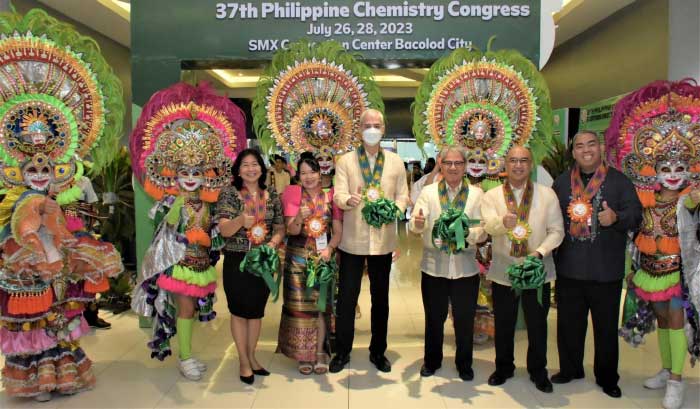 By Glazyl Y. Masculino
BACOLOD City – More than 1,000 participants gathered here to share their experiences and results that can help address some of the problems of the country during the 37th Philippine Chemistry Congress (PCC) held at SMX Convention Center here from July 26 to 28.
Dr. Glenn Alea, president of the Philippine Federation of Chemistry Societies, said the event serves as the common venue for chemists from academe, industry and government to share new knowledge and to further collaborate in solving some of the country's problems.
This year, the chemistry congress is focusing on agriculture and food security, according to Alea.
In the same way that technology is central to Industry 4.0, the theme "Chemistry for Agriculture 4.0 and Food Security" reflects the importance of chemistry in raising the level of agricultural productivity to attain food security.
Alea said the main task of chemists is chemical analysis, and this includes checking pollutants in the environment and ensuring the water is potable or not, among others.
"Many national interests ay involved po ang chemists," he added.
Alea said they would want more youth to be interested and consider chemistry as a career, especially in Visayas and Mindanao.
He is hoping that more students will be interested in taking Bachelor of Science in Chemistry and practicing the profession.
He is also hoping to develop the teaching force, to erase the impression of most people that chemistry is difficult.
This is the first time for them to hold a face-to-face activity since 2019 due to the pandemic, Alea said.
The PCC, spearheaded by the Integrated Chemists of the Philippines (ICP) – Bacolod Chapter, is the biggest annual conference of chemists, chemical technicians, chemistry teachers and researchers in the country.
Negros island is an appropriate setting for this theme being one of the agro-industrial hubs of the Philippines.
The event will also discuss how chemistry can contribute to agro-industrial development, from big industries to micro-small and medium enterprises (MSMEs).
Meanwhile, Negros Occidental Governor Eugenio Jose Lacson, who graced the event, said that chemists, teachers, chemical technicians, and researchers possess the knowledge and skills that are vital to the advancement of humanity.
He also stressed the importance of chemistry in agriculture and food security, and its big part in the advancement and development of society.
"May this Congress continue to inspire you to use the power of chemistry to further our common goal of sustainable agriculture and food security," the governor said.