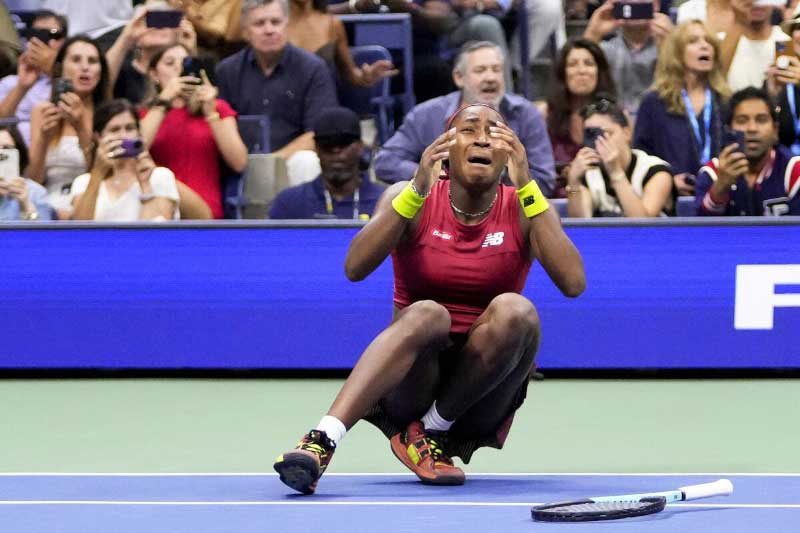 By Leobert Julian A. de la Peña
Young American tennis superstar Coco Gauff finally clinched that long overdue Grand Slam championship title after reigning supreme in the 2023 US Open women's singles grand finals last September 9, 2023, held at the Arthur Ashe Stadium in New York.
Gauff achieved the incredible feat after completing the comeback in a stunning upset over the world no. 2 female tennis player Aryna Sabalenka- 2.6, 6.3, 6.2-.
With the huge victory, Gauff became the youngest American to win the major title at 19 years of age, surpassing the legendary Serena Williams.
It was not an easy path to success as Gauff faced a determined Sabalenka who was on-point with her offense in the opening set.
From her thundering forehand strikes to her court-placement winner shots, Sabalenka showed hunger and the will to win over the young American teenager.
However, Gauff countered with her own offensive avalanche in the following set, punishing Sabalenka with her deep groundstroke game backstopped by her improved service game.
Gauff was playing with poise despite being down 0-1 and was giving Sabalenka the business midway through the second set.
After clinching the much-needed service break point, Gauff cruised to the set and equalized the grand final showdown at 1-1.
It was in the second game point of the third and final set where Gauff completely turned the game around followed by another break point.
Despite Sabalenka's consistent baseline attacks, Gauff took a risk by trying the net game to close out the distance which did wonders for her.
Gauff capped off her final US Open match with a convincing 83 tallied points, 36 garnered receiving points, and a 66% first service efficiency.