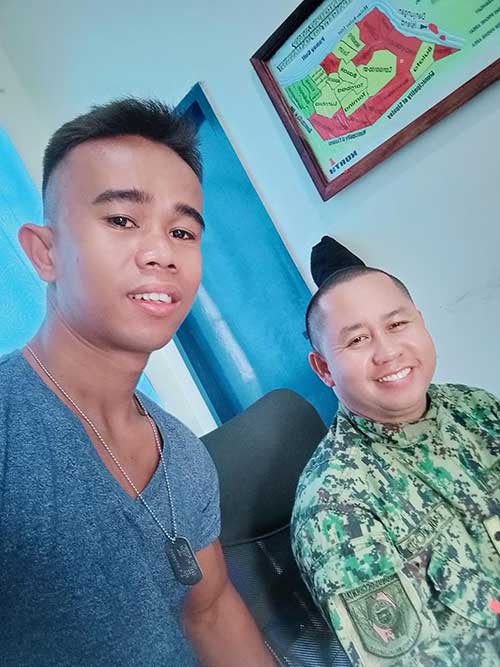 By Glazyl Y. Masculino
BACOLOD City – This is what heroism looks like.
A former janitor/helper of Hinoba-an Municipal Police Station in Negros Occidental has realized his dream of becoming a part of the law enforcement sector.
Ricky Magbanua of Barangay Talacagay, Hinoba-an town was a scholar of the police station since the stint of Police Lieutenant Colonel Roberto Indiape Jr.
Magbanua said he set foot on the police station when he visited his father who was jailed for a crime in 2014. It was when Indiape asked him if he was going to school or not.
Magbanua, who was a fourth year high school student at that time, said Indiape along with other police officers offered to sponsor his studies when he proceeds to college, considering the situation of his family.
His mother was a housewife, and he is the eldest of six children.
Magbanua said he accepted and grabbed the opportunity since he's willing to continue his studies.
In 2015, he started working at the police station, where he received allowances and other financial support for his studies.
Magbanua would usually stay at the police station during weekdays and goes home on weekends.
He took Agribusiness at Central Philippine State University (CPSU) in Hinoba-an campus when he was in college.
But he stopped on his third year in 2019 and tried his luck in the Philippine Coast Guard (PCG).
Luckily, he was able to pass the test and proceeded to the training in Cagayan for eight months.
At present, Magbanua is now an organic member of the PCG as Coast Guard Apprentice Seaman.
Magbanua visited Indiape yesterday at Cauayan Municipal Police Station, where the latter is currently assigned as police chief, to thank his benefactor.
"Dako gid akon pasalamat sa mga kapulisan sang Hinoba-an sang inyo nga bulig sakon. Maam/Sir saludo gid ko sa inyo tanan. Kabay pa nga damo pa kamo mabuligan parehos sa akon," Magbanua said.
With his present disposition, Magbanua said he is currently sending his three siblings to school and helping their family.
"Subong puwede ko na mabakal ang gusto ko, kag makabulig na ko sa akon pamilya," he added.
For his part, Indiape said he was glad for the achievement of Magbanua. "Nakita ko man abi sa bata na gusto niya gid mag eskwela bisan pigado sila, kag ka pisan man sa iya," he added.