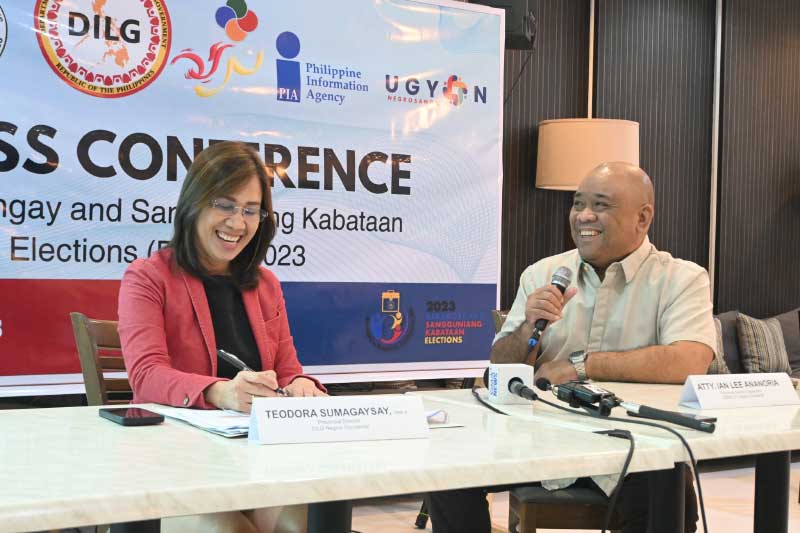 By Easter Anne Doza
All incumbent Barangay and Sangguniang Kabataan officials are told to conduct inventory and turnover properties, financial records, documents, and money accountabilities as well as create inventory teams and the City/Municipal Assessment and Turnover Team.
This is in view of the October 30 Barangay and SK Elections as provided in DILG Memo Circular No. 2023-047.
DILG provincial director Teodora Sumagaysay, during the PIA (Philippine Information Agency) Kapihan-Press Conference  at the Negros Residences, said failure of these accountable Barangay and Sangguniang Kabataan Officials to turn-over government properties under their possession or custody, will be held liable in accordance with the existing applicable laws, rules, and regulations.
Punong Barangays, SK Chairpersons and the City/Municipal Mayors shall direct the creation of the Barangay Inventory Team (BIT), Sangguniang Kabataan Inventory Team (SKIT), and the City/Municipal Assessment and Transition Team and conduct the turnover ceremony by all outgoing officials to incoming officials.
Both the Barangay Inventory Team and the SK Inventory Team shall plan and conduct the formal turnover not later than November 17.
"The challenge for DILG and the authorities is really the turn-over of properties and documents as this becomes a perennial problem," Sumagaysay said.
According to Sumagaysay, another challenge for DILG is after the assumption of office of newly elected Barangay and SK officials.
"One of the challenges is on how to educate and make the local Barangay and SK officials feel their roles and responsibilities. It is no joke to be elected in power, it is not just for the sake of furthering one's own whims and caprices but most importantly service to the people and sustainability of this passion for service," Sumagaysay added. (PIA)