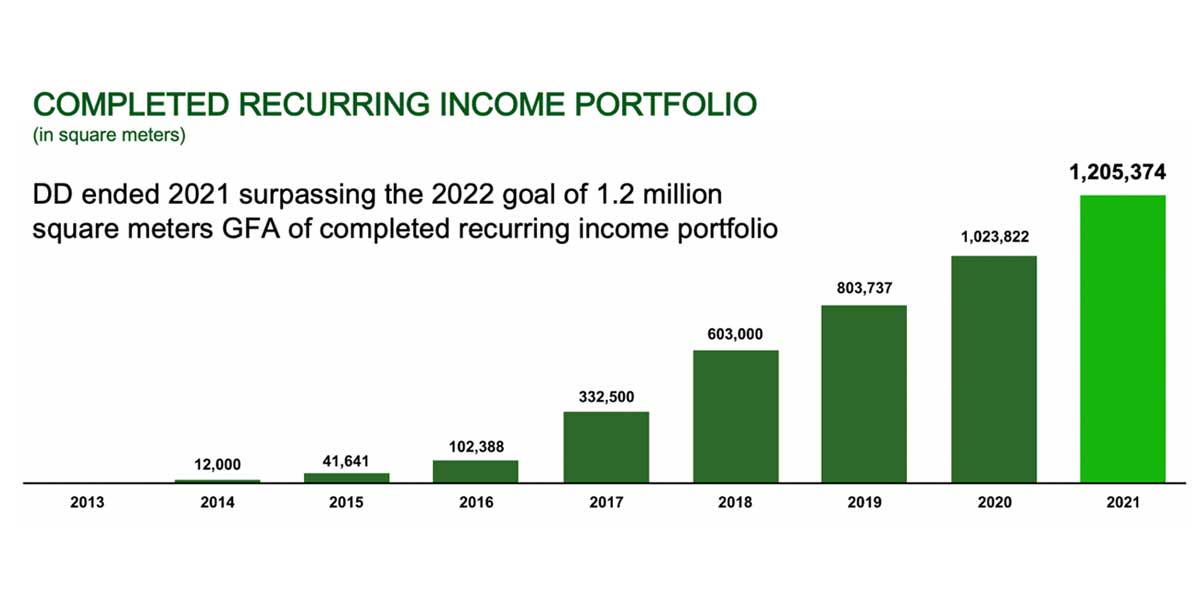 DoubleDragon Corp's consolidated net income grew by 87.2%, year-on-year, to ₱11.3 billion for the year ending December 31, 2021, with consolidated revenues increasing 11.7%, year-on-year, to ₱15.9 billion for the same period.
The company's total assets are also up 17.2% year-on-year to ₱141.7 Billion as of December 31, 2021.
Total Equity grew 41.3% to ₱69.3 Billion as of Deccember 31, 2021 as a result of the DDMP REIT listing and new equity infusion of the Jollibee Group into DoubleDragon's industrial leasing subsidiary CentralHub.
DoubleDragon's net Debt-to-Equity ratio stood at a low 0.62x as of December 31, 2021. The Company's unutilized Debt Capacity stood at ₱110.4 Billion as of December 31, 2021.
"We are pleased to have ended 2021, with DoubleDragon surpassing its 2022 goal of 1.2 million square meters GFA of completed recurring income portfolio. The whole cycle coming from zero leasable space, when DoubleDragon listed in the Philippine Stock Exchange last April 2014, to over 120 hectares of fully constructed recurring income portfolio today was not a walk in the park, and we are grateful for the support of all our stakeholders in the past 7.5 years that enable our team to make that happen. We see these 1.2 million completed square meters to like having 1.2 million of real estate seeds planted in prime strategic areas spread out accross the country. These string of prime hard assets should mature and generate recurring revenues at different times, but we expect all of them to reach optimal recurring revenue generation before 2025, and to endlessly contribute sizeable recurring revenue cashflow to DoubleDragon," said DoubleDragon Chairman Edgar "Injap" Sia II.
"Surviving a global pandemic is one thing, but DoubleDragon is emerging from it at a stronger position than ever before. DoubleDragon has a low net debt to equity ratio of 0.62x, consolidated cash balance at ₱11.27 Billion and will have no key long-term debt maturities until 2024. On top of that, in the last few years, we have seen the NAV of DoubleDragon further solidifying, its book value alone is already at ₱13.09 per common shareholder with total equity now standing at ₱69.3 Billion," said DoubleDragon Chief Investment Officer Hannah Yulo-Luccini.